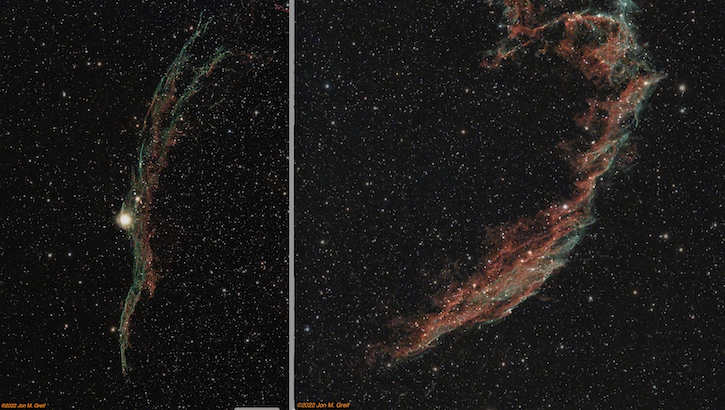 Photographer:
Jon Greif
Location of Photo:
La Jolla, CA, USA
Date/Time of photo:
September 5-7, 2022, between 9 pm and 4 am PDT
Equipment:
Takahashi FSQ85 refractor (450 mm focal length) with 1.01x flattener, ZWO ASI533 MC Pro imaging camera, 50 mm ZWO guide scope, ZWO ASI292 guide camera, Rainbow Astro RST-135 mount, ASIAIR Plus controller, Pixinsight 1.8.9 processing software. 13.3 hours integration time. Bortle 6 sky. Waxing gibbous moon.
Description:
The Veil Nebula is a cloud of heated and ionized gas and dust in the constellation Cygnus. It constitutes the visible portions of the Cygnus Loop, a supernova remnant, many portions of which have acquired their own individual names and catalogue identifiers. The source supernova was a star 20 times more massive than the Sun which exploded between 10,000 and 20,000 years ago. At the time of explosion, the supernova would have appeared brighter than Venus in the sky, and visible in the daytime. The remnants have since expanded to cover an area of the sky roughly 3 degrees in diameter (about 6 times the diameter, and 36 times the area, of the full Moon). The Veil Nebula lies about 2400 light years from Earth. The Western Veil (catalogued NGC 6960), also known as the "Witch's Broom", is the image on the left. and the Eastern Veil, catalogued NGC 6992 is the image on the right. The images were taken over two nights, and represent a total 13.3 hours of imaging time.
Website: