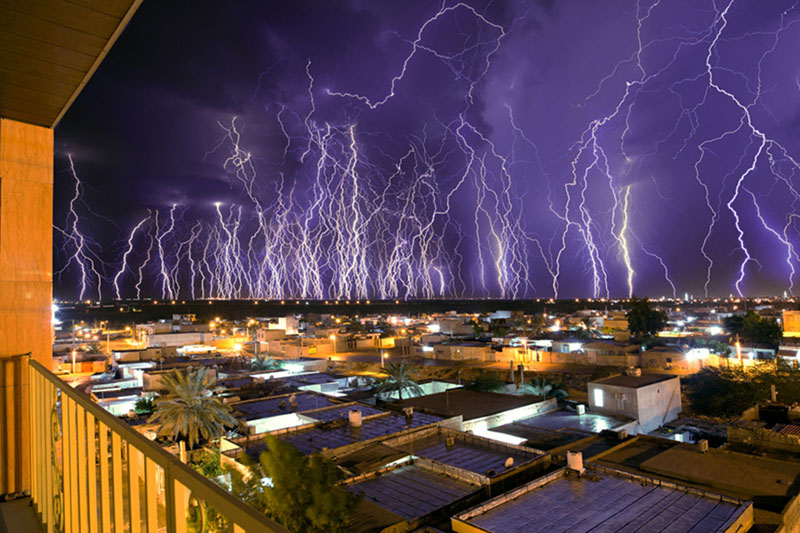 Photographer:
gitizadeh.mo@gmail.com
Location of Photo:
Kangan, Bushehr, Iran
Date/Time of photo:
Nov 22nd 2017 - 2:30am until 3:30am
Equipment:
Camera: Canon 6D - Lens: Sigma 20mm
Description:
Traditional sailors in the Persian Gulf believe that Leymer storm, which is the most important storm in this area, happens in the mid-November every year. In this phenomenon, the hot and humid weather of the Persian Gulf changes radically overnight into a cool and dry weather. Monsoon season immediately starts after heavy rain and hail. On Wednesday, November 22nd 2017, Leymer started in Kangan, south of Iran. Heavy rain and hail hit Kangan for 3 hours and it has been reported that 50mm of precipitation fell in Kangan area, one-third of yearly precipitation in average. The temperature had felt about 10 degrees Celsius the next morning. This photo is stacked from 200 frames captured continuously form 2:30 AM until 3:30 AM in the balcony of my apartment. It seems that the Leymer storm moved about 30 KM, from Dayyer to Kangan, from the left side of the photo to the right side. Due to the amount of precipitation, I had to go inside as it was impossible for me to keep on taking pictures when the storm got closer.