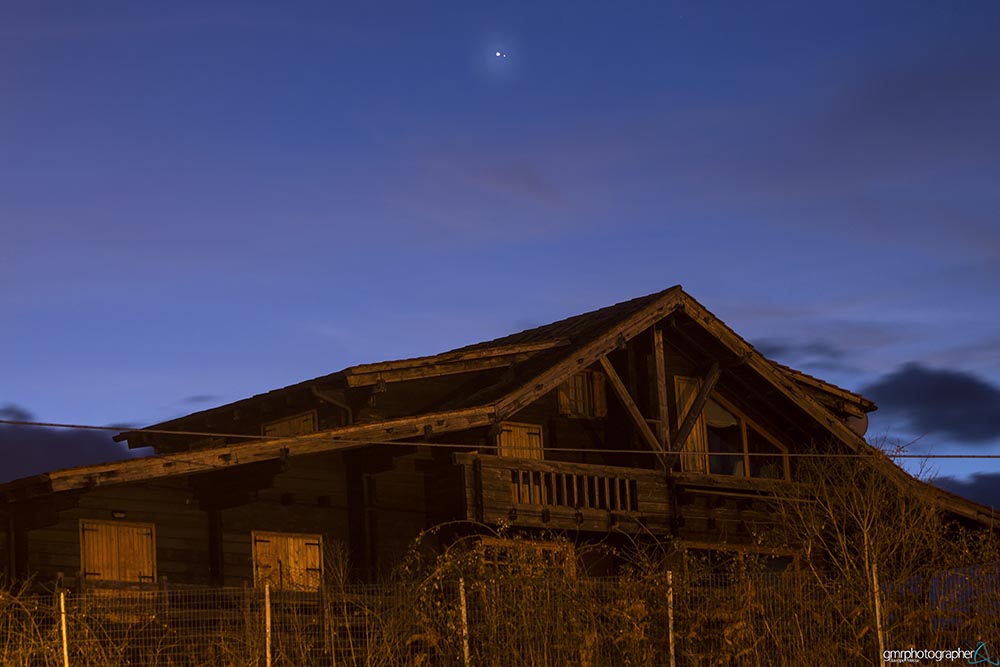 Photographer:
Giuseppe Petricca
Email:
Location of Photo:
Carsoli, Abruzzo, Italy
Date/Time of photo:
09/01/2016 - 05:48 UTC
Equipment:
Canon EOS 700D with Canon 55-250mm IS STM Lens
Description:
The history of this picture begins a little while before the picture itself. From my classic position in Central Italy unfortunately there was not a star that could be seen this morning, due to heavy and low cloud cover. But luckily I had to move towards my University place, and I calculated that I had around two hours after leaving to manage to capture the conjunction before the sunrise. And, like the Latin motto says, Fortuna favet Fortibus (Fortune favors the Bold), and near the town of Carsoli, where there is this fantastic all wood-build chalet, the planetary pair appeared! An awesome view, with Venus and Saturn so close that you had to squeeze your eyes to get both of them in the thin veil of high cirrostratus clouds, while the brightest one was always visibile. At least we can be satisfied from here towards the 2243, when there will be an ever closer conjunction between the pair!
Website: