The International Astronomical Union has named an asteroid for Fred Schaaf, longtime Sky & Telescope contributing editor.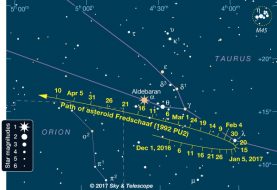 The International Astronomical Union has named asteroid 7065 Fredschaaf (1992 PU2) in honor of Sky & Telescope Contributing Editor Fred Schaaf. As the award announcement indicates, Schaaf has spent a lifetime interpreting the night (and daytime) sky for the public. His monthly columns for S&T have introduced countless readers to the simple joy of locating a planet, bright star, or constellation.
In addition to writing for S&T and teaching astronomy at Rowan University and Rowan College, Schaaf has authored more than a dozen books covering naked-eye and telescopic observing, comets, planetary science, and star lore. Since March 1976, he has written a regular astronomy column for the Atlantic City Press newspaper. His first formal contribution to S&T can be read in the Stars & Planets column in the January 1993 issue, but his interest and expertise in astronomy actually hit the pages of the magazine long before that: his daytime naked-eye sightings of Jupiter were described in the December 1976 Observers' Notebook, and his first letter to the editor, reporting on naked-eye observations of Callisto and Ganymede, was published in the August 1977 issue.
Schaaf's voice has rung true throughout the years, adjusting to changes in the magazine's format while consistently providing informative, imaginative takes on the sky. In addition to his regular Stars & Planet column, Schaaf has written about atmospheric sky phenomena and naked-eye observing  under the headings "The Near Sky," "Light Pollution," and "The Eye and I" in our Celestial Calendar. His columns addressing the increasingly important topic of light pollution and dark-sky activism are perhaps the most notable of these early S&T contributions. In the 1990s, Schaaf took this topic from the pages of our magazine to the state legislature, authoring the New Jersey state bill that established a temporary New Jersey Light Pollution Study Commission. Schaaf served on the commission, which produced a 12-point recommendation list for minimizing light pollution across the state.
Schaaf's Stars & Planets column has sported a few different looks and titles over the years, and in May 2004 took on the format that you'll find in the magazine today. He provides a monthly tour of the most important sky sights in Sun, Moon & Planets, a column popular with novice and expert observers alike. He also offers a more poetic look at the sky in his Under the Stars column (recently renamed from Northern Hemisphere's Sky). Mythology, science, wonder — all of these regularly combine for a compelling read.
Asteroid 7065 Fredschaaf, discovered at Palomar Observatory on August 2, 1992 by Henry E. Holt,  is in good company as it journeys through the solar system. It joins the list of several other Sky & Telescope-inspired space rocks such as 2157 Ashbrook, 3031 Houston, 3243 Skytel, 3706 Sinnott, 3841 Dicicco, 3819 Robinson, 4726 Federer, 7116 Mentall, 7228 MacGillivray, 9983 Rickfienberg, 10373 Macrobert, and 2925 Beatty.
It's not hyperbole to say that S&T readers adore Schaaf's columns, and we thought it was important to share not just the news that the IAU has recognized his service to astronomy, but to publicly express our gratitude for his work. Fred Schaaf represents the best of amateur astronomy — he shares his knowledge, inspires new observers, and reminds us of all the reasons we have to go outside and look up. Congratulations and clear skies!