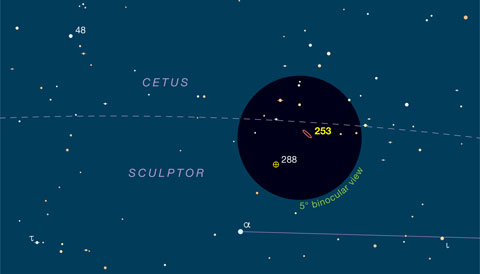 I vividly remember the first time I saw NGC 253, the Silver Coin Galaxy (also known as the Sculptor Galaxy). I was in Big Bear Lake on a little weekend getaway with my family. Big Bear is isolated — at least by Southern California standards — high in the San Gabriel Mountains, full of trees, and not bad off in terms of light pollution. If you can get away from streetlights, you can see the Milky Way from the middle of town.
On the night in question, I was tired from an afternoon of swimming and hiking with my son, but still wanted to soak up a little starlight. I grabbed my binos and popped into the alley behind the lodge to see what was up. I was working on the Astronomical League's Deep Sky Binocular Observing Program, and NGC 253 was one of my last remaining targets.
My notes from that first observation hold up pretty well: "Outstanding, one of the best galaxies I've seen. Big, bright, obviously elongated, distinctly brighter in the western half." At magnitude 7.1, NGC 253 is indeed one of the brightest galaxies in the sky. Not only is it one of best binocular galaxies, eagle-eyed observers have spotted it with no optical aid whatsoever. And the western half does seem to be a bit brighter, as many photos and sketches attest. I suspect this is because the spiral arm on the west is in the foreground, whereas the eastern arm is receding behind the galaxy's famously dense dust lanes.
Since that first observation, I've had a good look at NGC 253 on dozens of occasions, and with instruments of all sizes. But somehow it just doesn't seem right if I'm not up in the mountains, surrounded by pine trees, holding binoculars. Sometimes first loves never quite let go.
---
This article originally appeared in Sky & Telescope's November 2017 issue.