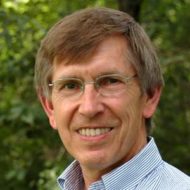 Senior Editor Kelly Beatty joined the staff in 1974 and served as the editor of Night Sky, our magazine for beginning stargazers, in 2004-07. After 43 years of pounding the keyboard, he retired from full-time work in early 2018 but remains actively involved in many Sky & Telescope articles, tours, and other projects.
Specializing in planetary science and space exploration, Kelly conceived and edited The New Solar System, considered a standard reference among planetary scientists. He also taught astronomy for six years at the Dexter Southfield School in Brookline, Massachusetts.
Kelly has been honored twice by the Division for Planetary Sciences (DPS) of the American Astronomical Society. In 2005 he received the Harold Masursky Award for meritorious service, and in 2009 he was honored with the inaugural Jonathan Eberhart Journalism Award. He is also a recipient of the prestigious Astronomical League Award (in 2006) for his contributions to the science of astronomy and the American Geophysical Union's Cowen Award for Sustained Achievement in Science Journalism (2009).
You'll occasionally hear his interviews and guest commentaries on The Weather Channel and National Public Radio, and his work has appeared in numerous other magazines, newspapers, and encyclopedias. In fact, Kelly enjoys speaking to audiences of all ages and interest levels about his passion for astronomy. He observes when he can through one of his eight telescopes, and he is active nationally in the fight against light pollution.
Kelly hails from Madera, California. He holds a Bachelors degree in geology from the California Institute of Technology and a Master's degree in science journalism from Boston University. During the 1980s he was among the first Western journalists to gain firsthand access to the Soviet space program. Asteroid 2925 Beatty was named on the occasion of his marriage in 1983, and in 1986 he was chosen one of the 100 semifinalists for NASA's Journalist in Space program.