July nights bring the green flicker of fireflies and a question —  are there any green stars we can see in our telescopes? The answer may surprise you.
Like many kids growing up in the Midwest, I collected fireflies on warm June and July nights. We'd cup the slow-flying beetles in our hands and transfer them to a jar with holes poked in the lids for air. All the while they tried to escape by crawling back up our hands and arms. Later, I'd set the jar by the bedside and fall asleep to their silent flashes.
I still love fireflies, though I don't catch them anymore. More often they catch me. By surprise. When out observing, I've mistaken them for meteors, Iridium satellites, and once, a supernova. That happened when one crawled into the bottom of my focuser and let off a blast of light while I was in middle of making a variable star estimate. Ka-boom!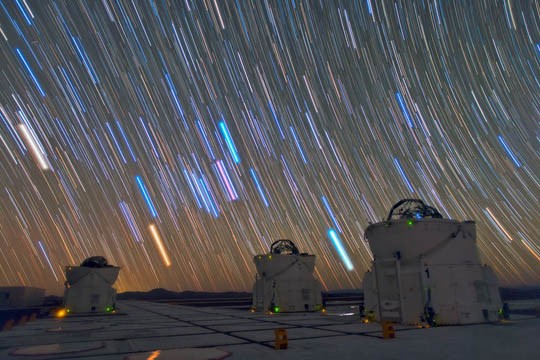 The color of light emitted by the luciferin molecule responsible for the firefly's beacon can vary from green to yellow to red. In my neighborhood, most flash green, a color never exhibited by the stars overhead. It's true. We've all seen white, pale blue, yellow, orange, and red stars, but you'll search in vain for true green.
Here's the problem. Stars emit light across the visible spectrum with hotter stars radiating more light at shorter, bluer wavelengths and cooler stars at longer, redder wavelengths. Ruddy Antares in Scorpius has a surface temperature of 3600° Kelvin (6000° F) with a peak emission in the near-infrared end of the spectrum. The Sun is hotter at 5700° K (9800° F) with a blue-green peak. Yet Antares is certainly not "infrared colored" nor is the Sun blue-green.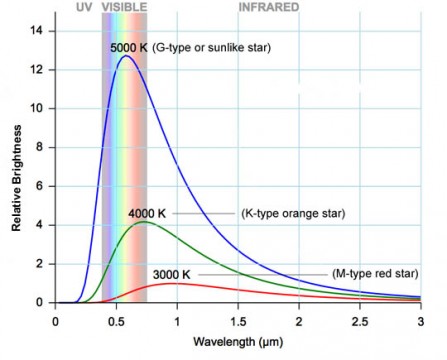 Even though a star's peak emission may lie anywhere in the spectrum, it also pours out lots of light at other wavelengths. Blended together, this makes most stars, including the Sun, appear white or, at the very least, weakly color-saturated. Green stars are absent for the same reason. Any star hot enough to emit a significant amount of green light will also radiate blue, red, and all the rest, effectively masking the green. Flooded with every color of the spectrum, we see white. Kermit had it right all along: "It isn't easy being green."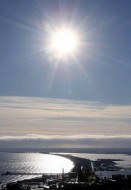 So are the twinkles of fireflies as close as we'll come to seeing green on a July night? Not if you take advantage of color contrast in double stars.
Double stars where the brighter primary star is vividly orange or red will cause its fainter companion to assume the complementary color. Red stars "push" their fainter companions towards green, while yellow stars make us see the secondary as blue. This is all the more interesting when you realize that most of these companions are far too dim to excite the eye's cone cells responsible for color vision. Seeing can be a very subjective thing.
Looking over older double star observations, you'll sometimes come across descriptions of "apple green" or "emerald green". There's even a single star, Libra's Zubeneschmali (Beta Librae), that some observers claim looks green, though to my eye, it appears white.
Just as we find artificial flavors better than no flavor at all, let's embrace the greens of double stars, even if they're nothing but ocular artifice. Below you'll find a few to peruse the next clear night. The "color pushing" just described is most easily seen with a brief look. Stare a while and the hues might just disappear.  Be sure to check out the links, too. Some point you to beautiful digital sketches of double stars by Jeremy Perez. Good luck!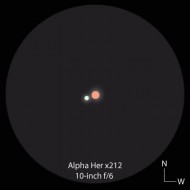 * Izar (Epsilon Boötis) — Mags. 2.7, 5.1, separation 2.9″. Orange primary with a secondary some observers see as pale green.
* Rasalgethi (Alpha Herculis) — Mags. 3.1 and 5.4, sep. 4.9″. Lovely red-orange primary. This one works for me — I see green ... briefly!
* 95 Herculis — Mags. 4.8 and 5.2, sep. 6″. A real gem. Maybe because the magnitudes are so similar, this one presents an obvious color contrast for many, my eye included. A 19th-century amateur astronomer described them as "apple-green and cherry red."
* Graffias (Beta Scorpii) — Mags. 2.9 and 5.1, sep. 13.6". One of the prettiest doubles of summer. I see two white stars, but some observers report the secondary as being slightly greenish.
* Antares (Alpha Scorpii) — Mags.1.0 and 5.4, sep. 2.5". Probably the most famous example of color contrast. A tough challenge requiring excellent seeing, but if you can crack it, the companion looks distinctly green nestled next to its brilliant, orange-red primary.
* Zeta Lyrae — Mags. 4.3 and 5.9, sep. 44″. Ruddy primary and watery green secondary.
* Gamma Delphini — Mags. 4.4 and 5.0, sep. 9.1″. Awesome double! I see two yellowish stars but others see one yellow and one pale emerald.
Sky & Telescope has lots of great articles on double stars, as well as an observing guide for observing doubles with small scopes. Eagle Creek Observatory offers an extended list of color contrasted doubles if you'd like to explore further.