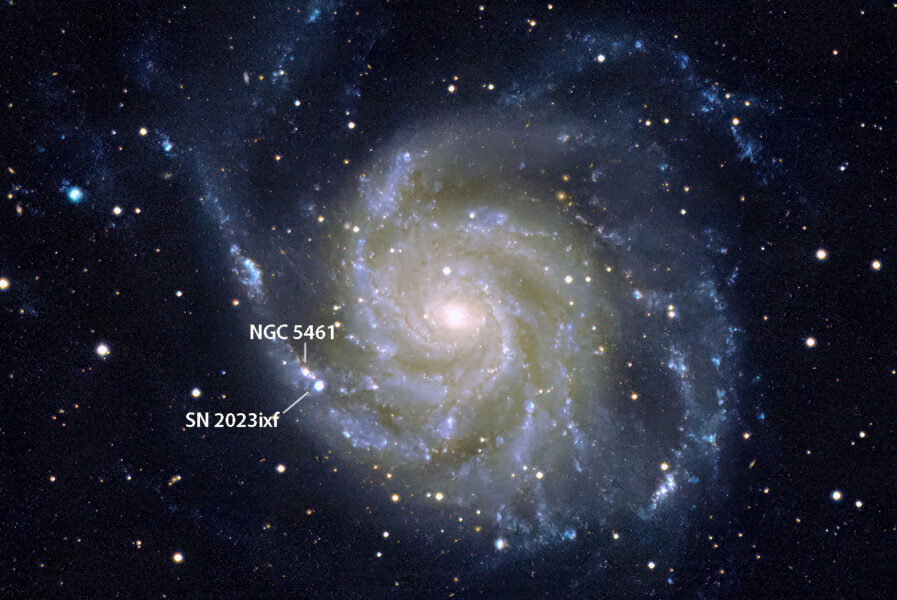 An enduring marvel of stargazing is knowing that photons have crossed vast distances of space to land on our retinas. It boggles the mind that light from the new supernova (SN 2023ixf) in the Pinwheel Galaxy (M101) has traveled nearly 21 million light-years to touch our eyes.
Looking through a telescope's eyepiece connects me directly to such far-away wonders. It's the realest form of magic I know.
But what about when visual astronomy isn't possible? Sometimes it's not just clouds that get in the way of stargazing.
As osteoarthritis erodes the cartilage in my knees, I can carry less and less equipment out the door even on the most brilliant nights. I have other limitations, too — like hair-trigger migraines — that complicate my hobby. It's both frustrating and demoralizing to glance up at a clear night sky and know that I don't have it in me to safely take the smallest telescope outside.
But we've come a long way since Hans Lippershey and Galileo Galilei. With continuing advances in technology, tools are available to overcome arthritic joints and other obstacles and allow more people to enjoy the nighttime wonders above our heads.
For me, the solution for seeing more with smaller and lighter-weight equipment is to go robotic: a Dwarf II telescope (nicknamed Persephone) has been added to my arsenal, and it has opened up the night sky to me in ways I hadn't thought possible.
I didn't embrace this technology right away. I enjoy the challenge of navigating to nebulae and asterisms on my own, so I can better learn my way around the sky. Even using my small GoTo scope sometimes feels like a cheat. But in a short space of time, even the 18-pound 127SLT became too much to manage. I needed a little astronomical help, so I took the plunge into electronically assisted astronomy.
Looking at a faraway star cluster on a tablet is a different experience than gazing through a telescope eyepiece or a pair of binoculars. For one, I'm looking down at a screen in my lap instead of up at the sky. It's a little disorienting — but the awe of discovery is the same.
Under Bortle 6 conditions, I can image deep sky objects I never imagined I'd be able to see. These are nowhere close to Hubble-class images, but as I watch the Whale Galaxy (NGC 4631) and the Hockey Stick Galaxy (NGC 4656) stack on the iPad Mini screen, I feel like I'm literally holding the future of amateur astronomy in my hands.
On nights when I'm feeling my worst — and when I can benefit the most from stellar relief — I can carry my gear in one hand. All I need is Persephone's little camera bag and my collapsible stool, plus a second trip to bring Jax's dog bed outside.
I had a conversation about stargazing with a neighbor — begun when he misunderstood Jax's involvement and thought the dog was looking up with me. (Jax doesn't stargaze; he just snores.)
"I used to attach my DSLR camera to a telescope," Ed said, then described imaging the Teapot in Sagittarius. "It was amazing, because you never knew exactly what you were going to get.
"But stacking images is not art. It's computerization," he added, grumbling about Photoshop and sleep deprivation.
He's not wrong. EAA isn't the same as seeing with your own eyes. I wish I could view everything through visual astronomy. I want to pretend I can feel the cosmic photons in my eyeballs. But my eyes aren't built for peering that deep, nor do I have the physical stamina to lug giant mirrors to dark sky sites.
The good news is that astronomy doesn't have to be difficult. While I've felt the satisfaction of hunting down an elusive deep-sky object with a Dobsonian telescope, diligence and hard work are only one path to wonder. Easier and more accessible avenues open the skies up wide for everyone, and I won't deny joy.
I will always love unplugged stargazing, but I'm no longer as much of a cosmic photon-snob. By embracing tech, I get the best of both worlds. The other night, I set up the little robot scope to image the Golden Eye Cluster (M67) while I reclined in my zero-gravity chair to sweep the sky with my 7x35 binoculars — all from the comfort of my suburban backyard. With Jax snoring beside me, I am living an amateur astronomy miracle.
---