This first in a several-part series on musical astronomers starts with a visit to Miami and the Stocker Astroscience Center on the campus of Florida International University.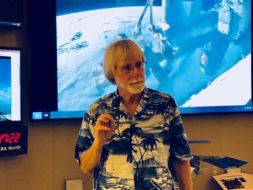 Most of you are probably familiar with the theme tune to the TV series "The Big Bang Theory" by The Barenaked Ladies, or Pink Floyd's "Shine On You Crazy Diamond."  Perhaps you've gone "Walking on the Moon" with The Police, or maybe you've empathized with Elton John's feelings of loneliness in "Rocket Man." And if you've heard some of the songs by They Might Be Giants, you'll notice a recurring astronomical theme to their lyrics. Who knows, you might even be familiar with "Cygnus X-1" by Rush.
All of these songs — and many others — deal with not just scientific concepts, but specifically astronomical topics. It's thrilling that there are so many singers, songwriters, and bands inspired by astronomy or spaceflight. But there are also professional astronomers out there who use science to inspire their own music.
One of the more famous musical astronomers might be William Herschel, who discovered Uranus in 1781. But let's turn instead to astronomers who are alive today — working in labs, teaching at universities and operating telescopes — and who are producing a variety of forms of music.
In the first of these columns, I would like to begin with a trip I took in early October to Florida International University in Miami where I met James Webb (no, not that James Webb . . . more on that later) at the Stocker Astroscience Center.
James Webb: Guitar-Playing, Folk-Singing, Blazar-Observing, Astronomer-Musician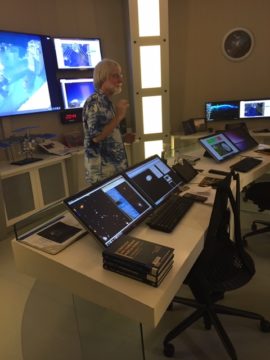 James Webb — or Jim — is a professor of physics at Florida International University (FIU). His research focuses on optical variability in blazars, and recently he was instrumental in establishing the Stocker Astroscience Center, of which he is now the director. As well as an exhibition hall and offices, the center also has a dome on the rooftop that houses a 24-inch telescope. A control room linked to telescopes for remote observing in places such as Arizona, Chile, and the Canary Islands is modeled after the bridge of the USS Enterprise from Star Trek. If you ever get the chance to visit, do!
Back to Jim. Not only is Jim an expert in his field of blazar astronomy and practically single-handedly built the science center, he's also a talented musician and songwriter.
In an interview with South Florida's NPR radio station WLRN, Jim lamented that in spite of growing up in the musically rich decades of the 1960s and 1970s and loving the music, he was "always left a little bit cold by the words," and wished for songs with astronomically meaningful content. So instead of waiting for someone to come up with that, he set about writing his own songs on cosmology, our place in the universe, and the importance of science in the world today.
"No, the James Webb Space Telescope is not named after me!"
Jim's first CDs were self-produced, with album titles such as Cosmic Guitar and Out in Space. They contained astronomy-themed songs with Jim singing and playing his guitar.
But then Jim got thinking that he would like the general public to get more exposure to this kind of music — scientifically relevant and on-point. Everybody urged him to find a professional producer. So Jim set about saving money to buy some studio time, and he teamed up with Keith Morrison of Kokopelli Recording Studios in Miami. Initially, Jim could afford to record only two songs, but when Keith heard the music, realizing that this was very different from what he normally engaged in, he said he wanted to record all of the songs Jim had suggested.
Joined by a guitarist, a drummer, a keyboard player, a steel guitar player, and a vocalist, Jim and Keith recorded and produced Reaching for the Stars. The album is an eclectic mix. Some songs are humorous — a cosmonaut falls into a black hole in "The Black Hole Song" (obviously). Others are personal: "I Can't Believe They Pay Me" highlights various phases of Jim's career. Then there are more poignant songs underscoring our responsibility toward our planet ("The Human Race") and encouraging more skeptical thinking ("The Demon Haunted World," inspired by Carl Sagan's book of the same name). Sprinkled in are also purely science songs such as "The Cycle", which takes us on a voyage through the evolution of the universe.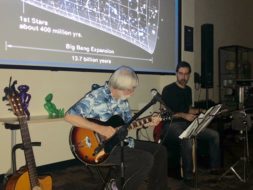 And of course Jim had to write "The James Webb Telescope Song." The infrared James Webb Space Telescope, successor to the Hubble Space Telescope, has been planned for decades, and when launched in 2021 (hopefully), it will be the largest space telescope ever built.
It's named after NASA's second administrator, James E. Webb. But as preparations for the mission began to gain traction, and reality of it entered the public consciousness, Jim started getting more and more phone calls and emails. People were congratulating him on having a telescope named after him. Impressed friends sent him Facebook messages, colleagues at conferences wanted to shake his hand, and every time he had to declare, "No, the James Webb Space Telescope is not named after me!" — a line that became the catchy refrain in the song.
In an email to me, Jim points out that Reaching for the Stars was released the same week that Taylor Swift's Red came out. "She sold 4 million, I sold 40! Close, astronomically speaking," Jim quipped. (Since then Red has sold quite a few more, the number is closer to 7 million — and we'd like to hope that Reaching for the Stars has sold a few more, too!)
Jim is passionate about outreach, and can often be found playing his music at different venues, such as planetariums and science museums, in addition to hosting concerts at the Stocker science center, which is where I heard him play in early October. Don't hesitate to reach out to Jim ([email protected]) if you would like some astro-music at your planetarium or science center event!
Jim is fond of quoting Richard Feynman: "Is no one inspired by our present picture of the universe? This value of science remains unsung by singers: You are reduced to hearing not a song or poem, but an evening lecture about it. This is not yet a scientific age." And Jim's goal is just that. Let's give Richard Feynman what he wanted: a scientific age.
Stay tuned for the next installment.