On Tuesday February 18th the Moon will pass in front of Mars occulting the Red Planet around or just before sunrise for viewers in North America.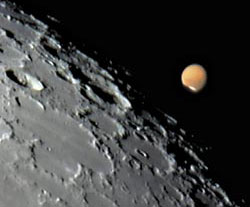 There are five lunar occultations in 2020 that involve Mars, but February's will be the only one visible in the U.S. and Central America. The others take place in March, August, September, and October, and are all mostly visible in the Southern Hemisphere (September's event will also be accessible to viewers in northern Africa and southernmost Europe).
On February 18th, the planet will be 92% illuminated, 5.2″ in apparent diameter, and shine at magnitude 1.2 when it meets the Moon less than 1° north of the Lagoon Nebula in Sagittarius.
https://www.youtube.com/watch?v=aMbWe8b0ReQ&t=84s
The December 24, 2007, occultation of Mars seasoned with rock music. The planet's apparent diameter at the time was 15.8″. Action starts at the 1:22 mark.
In a stellar occultation the Moon slowly sneaks up on a star and sucks it from sight in a tiny fraction of a second. The suddenness of the disappearance, also called immersion, can take your breath away. Occultations occur in literally a blink of the eye because stars are so far away that they're essentially points of light. Coupled with the fact that the Moon has next to no atmosphere, a star remains bright right up to the Moon's edge and then vanishes in an instant. The celerity with which this happens is also a reminder of just how fast the Moon is traveling in its orbit, averaging 3,680 kilometers per hour.
Mars is different. It presents a small disk, so it will take the Moon about 14 seconds to swallow the Red Planet start to finish. Disappearance occurs at the bright limb and reappearance at the trailing, or dark, limb. The time between disappearance and reappearance, or emersion, depends on how centrally the Moon and planet cross, and can vary from minutes to about an hour and a half, depending on your location. Visually, we'll witness a beautiful Mars-set at the approaching limb followed by what promises to be a spectacular Mars-rise at the darkened, earthlit limb when the planet reemerges.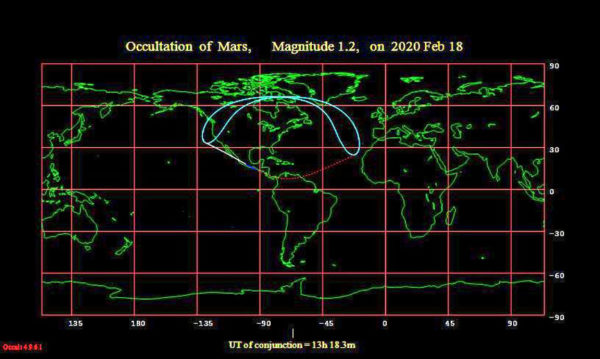 Locations in the eastern U.S. will see Mars disappear shortly after sunrise and reappear in a full daylight sky. While the dark limb won't be visible after sunrise, a telescope may still show the just-discernible planet upon emersion. Midwestern observers will see the disappearance during twilight and reappearance around sunrise. Cities in the far West will miss the disappearance entirely because the Moon won't have risen yet. But lucky observers will see Mars emerge in dramatic fashion from the Moon's earthlit edge in a dark sky.
From U.S. latitudes the occultation occurs with the pair low in the southeastern sky, so be sure your observing location has a clear view in that direction. Click here for times in Universal Time (UT) of the planet's disappearance and reappearance for hundreds of cities in the occultation zone. To convert UT to your time zone subtract 5 hours for EST; 6 hours for CST; 7 hours for MST; and 8 hours for PST. Here's a sample of U.S. cities and disappearance / reappearance times:
New York City, NY — 7:36:37 a.m. / 9:05:49 a.m. EST
Atlanta, GA — 7:07:29 a.m. / 8:45:13 a.m. EST
Columbus, OH — 7:14:47 a.m. / 8:45:48 a.m. EST
Nashville, TN — 6:04:12 a.m. / 7:38:49 a.m. CST
Chicago, IL — 6:07:10 a.m. / 7:35:02 a.m. CST
Kansas City, MO — 5:52:48 a.m. / 7:20:43 a.m. CST
Phoenix, AZ — 4:37:27 a.m. / 5:40:07 a.m. MST
Boise, ID — Reappearance only at 5:49:02 a.m. MST
San Francisco, CA — Reappearance only at 4:30:57 a.m. PST
Seattle, WA — Reappearance only at 4:47:41 PST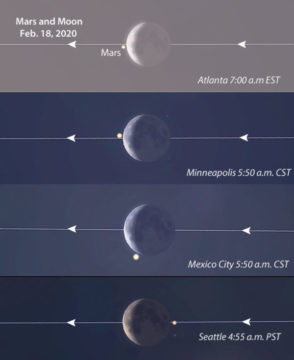 You can also prognosticate your specific viewing circumstances by simulating the occultation using a free star-charting program like Stellarium for Windows or Mac. Select your location and set the date to February 18th and the time near the start of the occultation. Select the Sky and Viewing Options icon on the lower left side of your screen, click on the SSO tab, and make sure the Scale Moon box is unchecked. Close down the dialog box, and then click the magnifying glass icon (search function) and type in "Mars." Advance the time minute by minute until Mars touches the lunar limb and note the time. (You can also zoom in to see better.)
While Mars is relatively bright it's unlikely the immersion will be visible without optical aid. Binoculars should handle this with aplomb, but a telescope will prove the better choice if for no other reason than it sits still, making it more comfortable to watch the action. If you live in the western half of the occultation zone, Mars will reappear at the dark limb in early twilight or darkness and should be readily visible with the naked eye as it extricates itself from the lunar limb.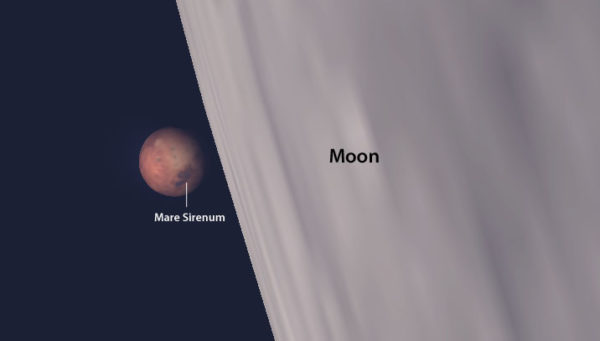 If you're watching with a telescope I recommend using the highest magnification seeing conditions will allow. Make Mars BIG, the better to experience the drama unfolding before your eyes.
Consider photographing the event, too. You can take great photos just by holding your cell phone over the telescope eyepiece. Take a series of images as the Moon approaches Mars, slowly engulfs it, and then releases the planet. Stack them together in sequence in an easy online gif-maker like this one and you've got yourself a cool animation you can share with Sky & Telescope or on your Facebook page. Clear skies!