What is White Balance?
Human vision in remarkable in its sensitivity, wide dynamic range, and ability to adapt to the color of different sources of illumination. Our eyes evolved over millions of years to see normal daytime sunshine as "white" light.  But they are also remarkably adaptable to other sources of light that have a strong color bias. This benefits our survival by allowing us to distinguish, say, the colors of a snake in twilight to tell if it's poisonous.
The color of ambient light in a shaded area on a clear day is very blue, whereas light from a tungsten light bulb is very red. Yet our eyes effortlessly adapt so we see the colors in both scenes as normal. A white piece of paper will look white, even though it reflects different colored light in these situations.
White balance in a camera does essentially the same thing; it adjusts the color in an image to compensate for the color temperature of the illumination source.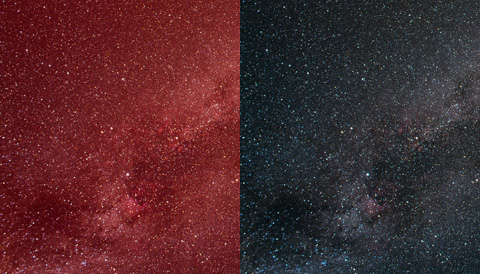 Astronomical Color
DSLR and mirrorless cameras usually offer a wide variety of white balance settings to choose from. To achieve a natural white balance when shooting astrophotos with a standard DSLR camera, it's best to use daylight, or sunny, white balance. After all, you're still shooting through the same atmosphere that scatters blue light.
Cameras modified to have an extended red response that better records the hydrogen-alpha emission line, however, require a custom white balance (CWB). Using either type of camera with a light-pollution filter also requires a custom white balance when the filter is in place.
Creating a Custom White Balance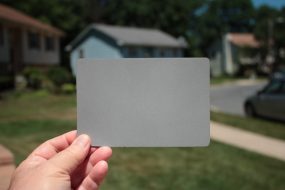 Setting a CWB is pretty easy. You can use a piece of white paper to shoot a custom white balance or a digital gray card if you want to be more precise. White typing paper often has fluorescent brighteners that respond to ultra-violet light that may throw off your CWB, so a digital gray card is usually a better choice for critical work.
Shoot the gray card or piece of paper on a clear day in the summer at noon. This will put the Sun high in the sky so atmospheric scattering, which can affect the color, will be minimized.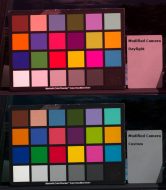 Fill the frame with the card, and don't let your shadow fall on it. Use your camera's daylight (or sunny) white balance and automatic exposure settings so the image produced appears as a neutral gray, even if you use a white piece of paper. Remember, if you sometimes shoot with a light-pollution filter, place it on your camera lens and take another picture of the paper or gray card with the automatic exposure that will be used for a CWB when shooting through that filter.
The unfiltered shot will come out with a red cast when shot with a hydrogen-alpha modified camera. This effect is normal, and exactly what the CWB will correct for. If your modified camera has a UV/IR replacement filter, your CWB will probably be good enough for you to use your modified cameras for normal daytime images, such as family snapshots. Full-spectrum modified cameras require a UV/IR filter plus a CWB for daytime images.
Your CWB shot through a light-pollution filter will probably turn out appearing blue or cyan. This is also normal. Again, the CWB will correct for this.
Setting the Camera's Custom White Balance
To use your gray-card image to set your camera's CWB, refer to your specific camera's manual. Nikon cameras allow you to specify an image as the white balance reference in the menu settings, but other cameras are different. Once you've set the CWB, then use that setting whenever you shoot astrophotos.
I usually store the frame of the CWB for my modified DSLR as well as a CWB frame for my light pollution filter on a spare memory card. That way I can just load them in the camera on a clear night when I'm ready to shoot some astrophotos.
The Results
The CWB will get the colors in your camera as close to natural as possible. But you'll notice that the color of the sky will still be an ugly red/brown in long exposures.  Don't panic — this is still correct! This is the true color of the night sky. That red/brown color is either from light pollution at your observing location or possibly from airglow at a true dark-sky site.
This foreground sky color then needs to be subtracted in image processing.  Once it is removed, the colors of the stars and astronomical objects will be as close to correct as you are going to get within the limitations of the technology you are using.