Lunt Engineering
2520 N. Coyote Dr., Suite 110, Tucson, AZ 85745
877-344-7348
luntengineering.com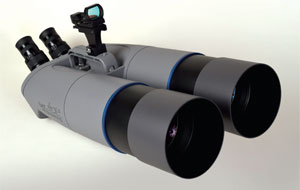 Lunt Engineering now offers big apochromatic binoculars — really big. The Lunt Engineering 100 mm ED APO Large Format Binoculars (starting at $2,950) are designed for seri- ous observing with both eyes open. These premium 4-inch binocu- lars are built around two-element, air-spaced ED glass objectives, providing superb color correction. Its multi-coated roof prisms fully illuminate the field of view. The eyepieces are seated at a comfort- able 45° viewing angle with an adjustable interpupillary distance range of 54 to 75 mm. The unit also accepts most 11⁄4-inch eyepieces seated in helical focusers, with non-marring brass compression rings in collet-style locking mechanisms. Weighing 14.52 lb (6.59 kg), the binoculars include a sturdy tripod mounting bracket, heavy- duty carry handle, and a unit-power finder to quickly and accurately aim at your chosen targets in the sky. Each purchase includes a matched pair of 20-mm eyepieces.
SkyandTelescope.com's New Product Showcase is a reader service featuring innovative equipment and software of interest to amateur astronomers. The descriptions are based largely on information supplied by the manufacturers or distributors. Sky & Telescope assumes no responsibility for the accuracy of vendors statements. For further information contact the manufacturer or distributor. Announcements should be sent to nps@SkyandTelescope.com. Not all announcements will be listed.