iOptron
6F Gill St., Woburn, MA 01801866-399-4587
ioptron.com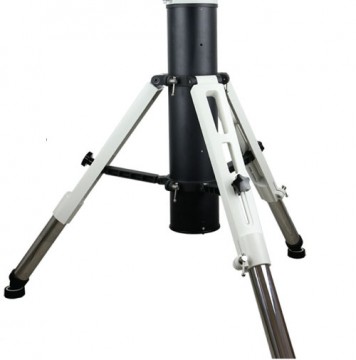 iOptron adds greater stability to its premium telescope mounts with the new Tri-Pier ($598). This heavy-duty portable pier combines the stability of a permanent pier with the flexibility of a tripod. Manufactured from aluminum and stainless steel, the 5.7-inch-diameter pier has a total load capacity of 220 lbs., and supports iOptron's iEQ, CEM, and MiniTower drive heads, as well as the company's ZEQ25 mount (with optional pier extension). The pier's three legs have an 85mm range of travel to allow users to quickly level their mount to ensure greater Go To pointing accuracy. The Tri-Pier
weighs 25.6 lbs. (11.6 kg), is adjustable to heights between 31.3 and 43 inches, and collapses to 12.8 by 25.6 inches when folded for travel.
SkyandTelescope.com's New Product Showcase is a reader service featuring innovative equipment and software of interest to amateur astronomers. The descriptions are based largely on information supplied by the manufacturers or distributors. Sky & Telescope assumes no responsibility for the accuracy of vendors statements. For further information contact the manufacturer or distributor. Announcements should be sent to nps@SkyandTelescope.com. Not all announcements will be listed.