iOptron
6F Gill St., Woburn, MA 01801
866-399-4587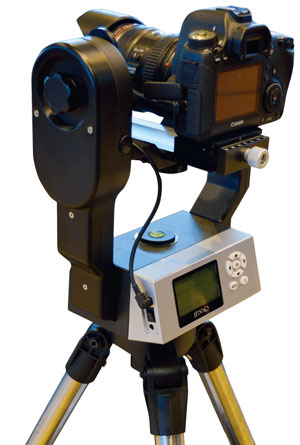 When iOptron rolled out its latest innovations at the Northeast Astronomy Forum in April, the iPano gigapixel mount head caught our eye. This robotic camera platform (introductory price: $999) supports large DSLR cameras and lenses and is designed to automate your ability to shoot extremely- large-scale panoramas. The iPano directly connects to most DSLR camera models and, with minor calibration, can automatically and precisely point and shoot as many overlapping frames as necessary to assem- ble your final gigapixel panorama. The unit weighs 7.3 lbs (3.3 kg) and bears a load of up to 11 lbs (5 kg), and it runs on lithium rechargeable batteries. The iPano accepts RS232 and RS485 inputs and also includes a built-in Wi-Fi connection.
SkyandTelescope.com's New Product Showcase is a reader service featuring innovative equipment and software of interest to amateur astronomers. The descriptions are based largely on information supplied by the manufacturers or distributors. Sky & Telescope assumes no responsibility for the accuracy of vendors statements. For further information contact the manufacturer or distributor. Announcements should be sent to nps@SkyandTelescope.com. Not all announcements will be listed.