JMI Telescopes
8550 West 14th Ave., Lakewood, CO 80215
800-247-0304
jmitelescopes.com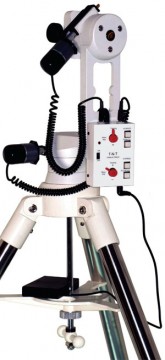 JMI Telescopes expands its range of alt-azimuth tracking drives for lightweight telescope mounts with
the addition of the Train-N-Track system for the Explore Scientific Twilight I mount ($279). The Train-N-Track (TNT) system is a motor drive system with adjustable or trainable tracking for alt-azimuth mounts. A simple 30-second training procedure allows the mount to track targets any- where in the sky for 10 minutes or more. The TNT motor drive system includes adjustable speeds on both axes and high-speed centering. Its friction drives allow you to move the telescope around by hand without unlocking any clutches. The TNT system includes two easily assembled friction drive motors, the hand control box, and all hardware and cables, and it is powered by 8 AA batteries. TNT Motor Drives are also available for the Astro-Tech Voyager and Vixen Porta mounts.
SkyandTelescope.com's New Product Showcase is a reader service featuring innovative equipment and software of interest to amateur astronomers. The descriptions are based largely on information supplied by the manufacturers or distributors. Sky & Telescope assumes no responsibility for the accuracy of vendors statements. For further information contact the manufacturer or distributor. Announcements should be sent to nps@SkyandTelescope.com. Not all announcements will be listed.