Fornax Mounts
Available in North America through BCS Astro
587-709-3976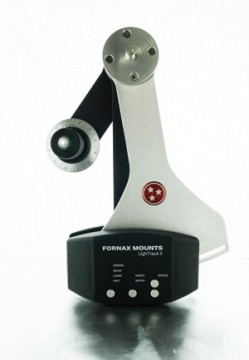 Fornax Mounts announces the LighTrack II, a portable camera tracking head for nightscape astrophotography. The LighTrack II attaches to your photographic tripod using a ⅜ thread (or a ¼-20" to ⅜" adapter) and can carry a DSLR or mirror-less camera and lens weighing up to 10 pounds (5 kg). The unit incorporates a friction motor drive that boasts a peak-to-peak unguided tracking error of around 2 arcseconds in exposures of up to 6 minutes. The LighTrack II weighs under 3 pounds (1.3 kg) and can track for about 2 hours before requiring a reset of the drive.
SkyandTelescope.com's New Product Showcase is a reader service featuring innovative equipment and software of interest to amateur astronomers. The descriptions are based largely on information supplied by the manufacturers or distributors. Sky & Telescope assumes no responsibility for the accuracy of vendors statements. For further information contact the manufacturer or distributor. Announcements should be sent to [email protected]. Not all announcements will be listed.