Knaeble Optical Systems
Brandenburgishe Str. 28 10707
+49-30-30839066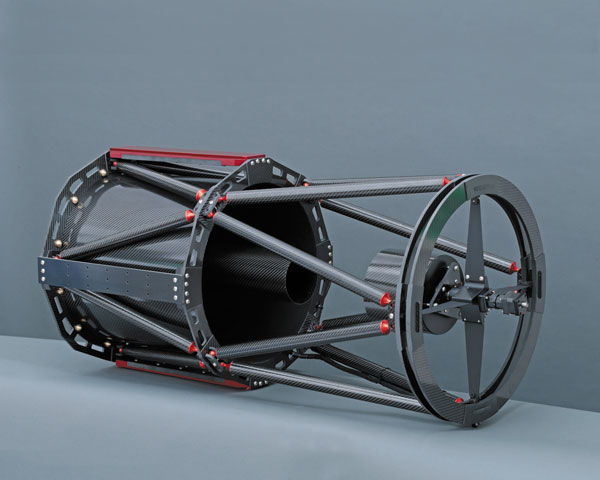 German manufacturer Knaeble Optical Systems announces the RCM 360 FC/Ti (starting at $25,000). This 14.2-inch f/7.5 Ritchey-Chrétien reflector astrograph is constructed primarily of carbon fiber to virtually eliminate thermal expansion. The telescope's rear cell includes active cooling fans and accepts up to 3½-inch focusers, producing a 60-mm non-vignetted field. Its hybrid aluminum/carbon fiber dovetail mounting system promises to reduce deformation by a factor of 40 as compared to aluminum plates. The entire telescope weighs 66 pounds (30 kg). Additional options include titanium/carbon back plate and titanium truss joints, and a choice of Sitall, Pyrex, or Zerodur optics.
SkyandTelescope.com's New Product Showcase is a reader service featuring innovative equipment and software of interest to amateur astronomers. The descriptions are based largely on information supplied by the manufacturers or distributors. Sky & Telescope assumes no responsibility for the accuracy of vendors statements. For further information contact the manufacturer or distributor. Announcements should be sent to nps@SkyandTelescope.com. Not all announcements will be listed.