Orion Telescopes & Binoculars
89 Hangar Way
Watsonville, CA 95076
800-447-1001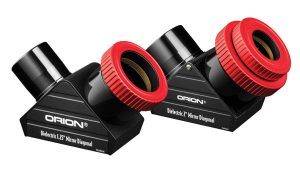 Orion Telescopes & Binoculars now offers a pair of Dielectric Twist-Tight Mirror Star Diagonals. These 90° mirror diagonals feature highly efficient dielectric coatings that promise 99% reflectivity for maximum brightness and contrast in refractors or catadioptric telescopes. Eyepieces are secured with an innovative twist-tight mechanism that won't mar their barrels. The Dielectric Twist-Tight Mirror Star Diagonals are available in 11⁄4-inch and 2-inch versions, priced at $119.99 and $189.99, respectively.
SkyandTelescope.com's New Product Showcase is a reader service featuring innovative equipment and software of interest to amateur astronomers. The descriptions are based largely on information supplied by the manufacturers or distributors. Sky & Telescope assumes no responsibility for the accuracy of vendors statements. For further information contact the manufacturer or distributor. Announcements should be sent to nps@SkyandTelescope.com. Not all announcements will be listed.