Apache-Sitgreaves Research Center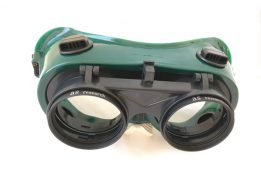 Here's a novel observing aid for deep-sky aficionados: the Flip-Filter Goggles from Apache-Sitgreaves Research Center ($42). These goggles feature 2-inch threaded ports that accept a pair of filters, allowing users to see the expansive nebulae that permeate the Milky Way with no magnification. The filter rack flips up and out of the way while still blocking extraneous light, enabling you to better enjoy the view through telescopes and binoculars. The goggles accept any standard 2-inch threaded filters (not included), including the company's UHC filters ($95 each) and O-III filters ($105).
SkyandTelescope.com's New Product Showcase is a reader service featuring innovative equipment and software of interest to amateur astronomers. The descriptions are based largely on information supplied by the manufacturers or distributors. Sky & Telescope assumes no responsibility for the accuracy of vendors statements. For further information contact the manufacturer or distributor. Announcements should be sent to nps@SkyandTelescope.com. Not all announcements will be listed.