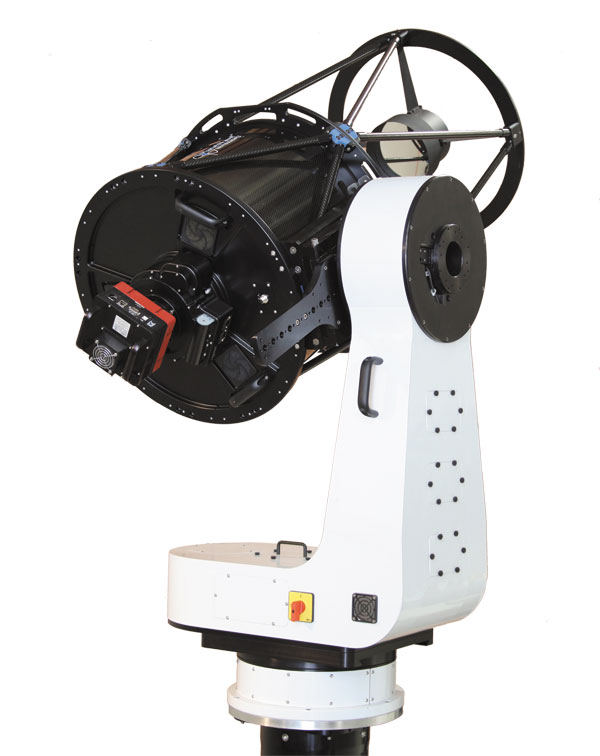 PlaneWave Instruments
1819 Kona Dr., Rancho Domingues, CA 90220
310-639-1662
PlaneWave Instruments introduces the L-500 Direct Drive Mount ($18,000). This single-arm fork mount can operate in equatorial or alt-azimuth configurations, and is rated to support up to 200 pounds of equipment (including its own CDK17 and CDK20 telescopes). The mount incorporates axial-flux direct drive motors, providing no backlash or periodic error, and can slew to objects at speeds of up to 50° per second. Both axes include high-resolution encoders for precise pointing accuracy when operated with the included PlaneWave Interface (PWI4) control software. Additional features include through-the-mount cabling, and a dual mounting bracket, allowing users to mount a second telescope outside of the fork arm.
SkyandTelescope.com's New Product Showcase is a reader service featuring innovative equipment and software of interest to amateur astronomers. The descriptions are based largely on information supplied by the manufacturers or distributors. Sky & Telescope assumes no responsibility for the accuracy of vendors statements. For further information contact the manufacturer or distributor. Announcements should be sent to nps@SkyandTelescope.com. Not all announcements will be listed.