Waterford Press
1123 Overcash Dr., Dunedin, FL 34698
727-812-0140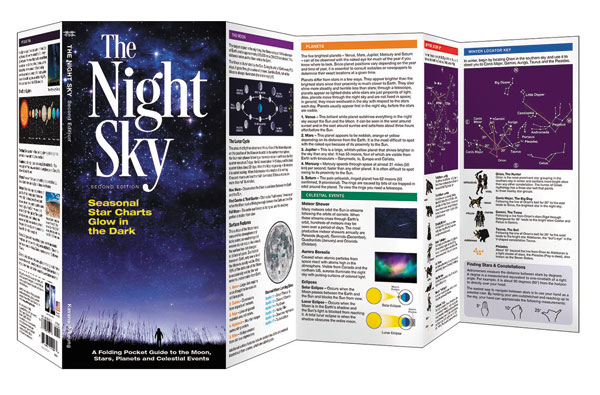 Waterford Press produces The Night Sky ($7.95). This laminated, folding pocket sky guide, now in its second edition, features seasonal glow-in-the-dark star charts with prominent constellations marked to help navigate the sky. The pocket guide introduces stargazing newcomers to objects visible to the unaided eye such as the Moon and bright planets, as well as special astronomical events, including meteor showers, the aurora borealis, and eclipses. A helpful section shows users how to use their fingers to "walk" between constellations to find prominent stars. A Southern Hemisphere version is also available.
SkyandTelescope.com's New Product Showcase is a reader service featuring innovative equipment and software of interest to amateur astronomers. The descriptions are based largely on information supplied by the manufacturers or distributors. Sky & Telescope assumes no responsibility for the accuracy of vendors statements. For further information contact the manufacturer or distributor. Announcements should be sent to nps@SkyandTelescope.com. Not all announcements will be listed.