Farpoint Astronomical Research
11358 Amalgam Way, Suite A1
Gold River, CA 95670
877-623-4021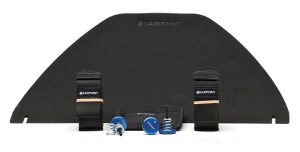 Farpoint Astronomical Research introduces upgrade kits for Zhumell 10- and 12-inch Dobsonian telescopes ($119.99). The kit includes a snap-on light shield that prevents stray light from entering the front of the telescope, while 3 machined primary-mirror-cell collimation knobs with tension springs eliminate the need for tools in the field. A magnetic bag weight allows you to effortlessly re-balance the telescope when switching eyepieces. And two lifting straps make placing your OTA on its rocker base easier to lift.
SkyandTelescope.com's New Product Showcase is a reader service featuring innovative equipment and software of interest to amateur astronomers. The descriptions are based largely on information supplied by the manufacturers or distributors. Sky & Telescope assumes no responsibility for the accuracy of vendors statements. For further information contact the manufacturer or distributor. Announcements should be sent to nps@SkyandTelescope.com. Not all announcements will be listed