Orion Telescopes & Binoculars
89 Hangar Way, Watsonville, CA 95076
800-447-1001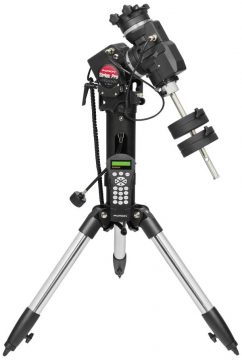 Orion Telescopes & Binoculars releases the Sirius Pro AZ/EQ-G Computerized Go To Telescope Mount ($1,499). This multi-purpose mount is equally useful as a German equatorial mount or operating in alt-azimuth mode. The AZ/EQ-G features hybrid stepper-motor drives on both axes for smooth slewing at up to 4.2° per second. Capable of supporting up to 30 pounds of gear, the mount accepts the standard ST-4-style autoguider input for astrophotography and also includes a DSLR-shutter control port. Its SynScan Go To controller features a database of more than 42,000 objects, including all those found in the Messier, NGC, IC, and Caldwell catalogs. The AZ/EQ-G also includes two 7½ lb. counterweights, an adjustable stainless steel tripod, and a DC power adapter.
SkyandTelescope.com's New Product Showcase is a reader service featuring innovative equipment and software of interest to amateur astronomers. The descriptions are based largely on information supplied by the manufacturers or distributors. Sky & Telescope assumes no responsibility for the accuracy of vendors statements. For further information contact the manufacturer or distributor. Announcements should be sent to nps@SkyandTelescope.com. Not all announcements will be listed.