Orion Telescopes & Binoculars
89 Hangar Way
Watsonville, CA 95076
800-447-1001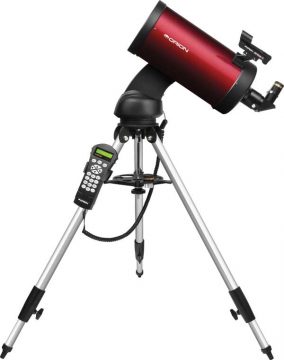 Orion Telescopes & Binoculars introduces the StarSeeker IV 150mm GoTo Mak-Cass Telescope ($999.99). This compact 5.9-inch f/12 Maksutov-Cassegrain telescope has enough aperture to provide satisfying views of the Moon and planets, as well as many deep-sky objects. The telescope rides upon a single-arm alt-azimuth Go To mount with dual optical encoders, allowing users to slew to objects or move the telescope by hand without losing the Go To alignment. The StarSeeker IV hand controller features an extensive database of more than 42,000 celestial objects, including stars, double stars, galaxies, nebulae, star clusters, and more. The telescope includes a 2-inch visual back with a 2-to-1¼-inch adapter, a 90° star diagnoal, 23- and 10-mm wide-field 1¼-inch eyepieces, and an Orion EZ Finder II reflex sight.
SkyandTelescope.com's New Product Showcase is a reader service featuring innovative equipment and software of interest to amateur astronomers. The descriptions are based largely on information supplied by the manufacturers or distributors. Sky & Telescope assumes no responsibility for the accuracy of vendors statements. For further information contact the manufacturer or distributor. Announcements should be sent to nps@SkyandTelescope.com. Not all announcements will be listed.