IP4AP
2730 Upper Mountain Rd., Sanborn, NY 14132716-864-7400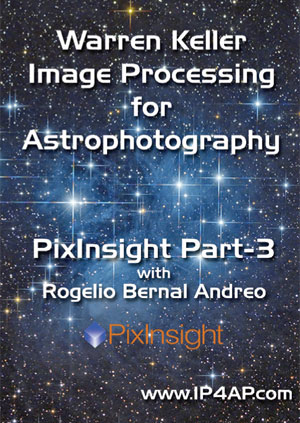 Premier astrophotographers Warren Keller and Rogelio Bernal Andreo team up to bring you their latest video tutorial in the IP4AP series. "Image Processing for Astrophotography: PixInsight Part-3" ($65) is available for online streaming or as a DVD. It contains almost 3 hours of information in 26 scripted Adobe Flash tutorials that continue to familiarize you with the powerful software PixInsight, an affordable digital darkroom alternative to Adobe Photoshop designed specifically for astrophotography. Part 3 of the series details advanced image-processing techniques, including high-dynamic-range (HDR) composition, assembling mosaics, multi-scale processing with wavelets, and much more. Each tutorial runs about 4 to 6 minutes and contain walkthrough demonstrations of each concept to help you get the most out of your astroimages.
SkyandTelescope.com's New Product Showcase is a reader service featuring innovative equipment and software of interest to amateur astronomers. The descriptions are based largely on information supplied by the manufacturers or distributors. Sky & Telescope assumes no responsibility for the accuracy of vendors statements. For further information contact the manufacturer or distributor. Announcements should be sent to nps@SkyandTelescope.com. Not all announcements will be listed.