QHYCCD
Available in the U.S. from Astrofactors
15922 Eldorado Pkwy, Suite 500
Frisco, TX 75035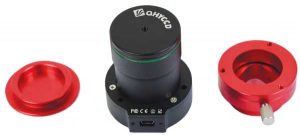 QHYCCD rolls out the PoleMaster ($268), an electronic polar finderscope that helps you quickly and easily achieve near-perfect polar alignment. The PoleMaster is a small optic with an integrated camera that attaches in front of the poalr finderscope on most equatorial mounts. Once installed, the unit produces an 11° x 8° field of view and its PoleMaster software then quickly identifies the star field and locates your mount's true polar axis — allowing you to adjust your alignment until you are withi 30 arcseconds of the pole. PoleMaster can be calibrated to precisely match the true axis of your mount, and it connects to Windows PCs via a Mini USB cable. See the manufacturer's website for a list of compatible mounts.
SkyandTelescope.com's New Product Showcase is a reader service featuring innovative equipment and software of interest to amateur astronomers. The descriptions are based largely on information supplied by the manufacturers or distributors. Sky & Telescope assumes no responsibility for the accuracy of vendors statements. For further information contact the manufacturer or distributor. Announcements should be sent to nps@SkyandTelescope.com. Not all announcements will be listed.