Emerald Bay Software
9905 N. Sedona Cir., Fresno, CA 93720
www.emeraldbaysoftware.com
(Available in the iTunes store)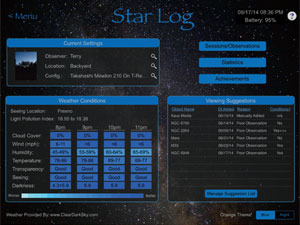 Emerald Bay Software brings you StarLog ($24.99), an observing logbook app for your iPad. StarLog lets you log, track, and quickly analyze your celestial observations. Each log entry can be tagged with any information pertinent to the observation, including location, equipment, filter, weather, and virtually any other statistical information relative to the targets observed. There's also a "successful" observation setting and a quality rating. StarLog imports and displays weather information from the popular website cleardarksky.com, allowing you to easily determine when the best time will be for viewing. Any number of observations can be added to a session, and users can quickly compare the results to previous observing logs in the history screen. See the manufacturer's website for additional details.
SkyandTelescope.com's New Product Showcase is a reader service featuring innovative equipment and software of interest to amateur astronomers. The descriptions are based largely on information supplied by the manufacturers or distributors. Sky & Telescope assumes no responsibility for the accuracy of vendors statements. For further information contact the manufacturer or distributor. Announcements should be sent to nps@SkyandTelescope.com. Not all announcements will be listed.