Takahashi America
1925A Richmond Avenue
Houston, TX  77098
713-529-3551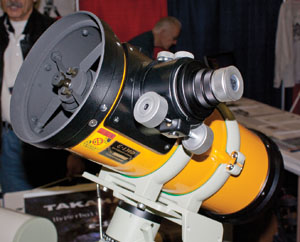 Takahashi has updated and reintroduced its smallest Epsilon series telescope, the ε-130D Hyperbolic Astrograph ($2,995). This 5-inch f/3.3 optical system features a hyperbolic primary mirror mated with a digital corrector to record pinpoint stars across a large 44-mm image circle. With a newly redesigned collimation system, secondary assembly, and heavy-duty focuser, the ε-130D will hold alignment at any angle as you track your targets across the sky. Its compact Newtonian design measures just over 18 inches and weighs in at 10.8 pounds (4.9 kg), making the ε-130D airline transportable. The reduced size and weight also allow it to be used on smaller equatorial mounts than its predecessor could. See the company's website for additional options.
SkyandTelescope.com's New Product Showcase is a reader service featuring innovative equipment and software of interest to amateur astronomers. The descriptions are based largely on information supplied by the manufacturers or distributors. Sky & Telescope assumes no responsibility for the accuracy of vendors statements. For further information contact the manufacturer or distributor. Announcements should be sent to [email protected]. Not all announcements will be listed.