Teeter's Telescopes
270 Route 46, Suite B, Rockaway, NJ 07866
732-991-1248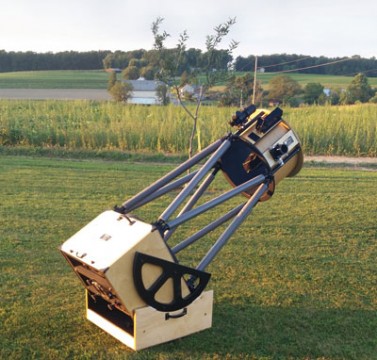 Teeter's Telescopes unveils its latest custom Dobsonian telescope, the 16-inch f/4.5 TT/Stark (starting at $2,575 without optics). This Truss-Dobsonian is an "á la carte" telescope that you can customize yourself at time of order or later. Each unit is manufactured from Baltic birch plywood with Teeter's exlusiev clear-gloss finish. Its mirror box weighs approximately 55 pounds (25 kg, including its optional primary mirror) and stands 69 inches when pointed at the zenith. Each TT/Stark Dobsonian can be ordered with a variety of options, from the primary optics to the focuser and finder, and is compatible with most popular upgrades and accessories.
SkyandTelescope.com's New Product Showcase is a reader service featuring innovative equipment and software of interest to amateur astronomers. The descriptions are based largely on information supplied by the manufacturers or distributors. Sky & Telescope assumes no responsibility for the accuracy of vendors statements. For further information contact the manufacturer or distributor. Announcements should be sent to nps@SkyandTelescope.com. Not all announcements will be listed.