Tele Vue Optics
32 Elkay Dr., Chester, NY 10918
845-469-4551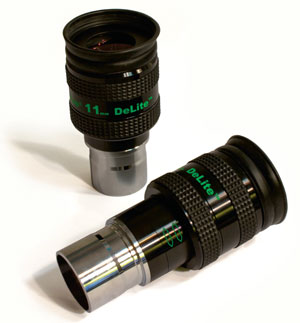 Tele Vue unveils its latest creation for the discerning observer. The new DeLite series eyepieces ($250) provide a generous 62° apparent field of view with comfortable eye relief of 20 millimeters. These 1¼-inch oculars are based on the advancements of the company's popular Delos series, in an economical and lightweight body. Available in 18.2-, 11-, and 7-mm focal lengths, each features a unique, extendable twist- lock eye guard. The DeLite eyepieces are parfocal with others in the series, as well as Tele Vue's 1¼-inch Plössl, Panoptic, Nagler, and Delos eyepieces, and accept its Dioptrx correctors.
SkyandTelescope.com's New Product Showcase is a reader service featuring innovative equipment and software of interest to amateur astronomers. The descriptions are based largely on information supplied by the manufacturers or distributors. Sky & Telescope assumes no responsibility for the accuracy of vendors statements. For further information contact the manufacturer or distributor. Announcements should be sent to nps@SkyandTelescope.com. Not all announcements will be listed.