Teeter's Telescopes
270 Rt. 46, Suite B, Rockaway, NJ 732-991-1248
teeterstelescopes.com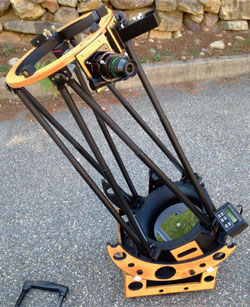 Teeter's Telescopes unveils its latest custom Dobsonian telescope, the TT/Journey ($2,550 without optics). This compact 11-inch Dobsonian is designed to be as light as possible, with adequate aperture to provide generous detail on the planets as well as many deep-sky targets. Weighing a total of only 39 pounds, the telescope collapses into a compact area to fit in most small vehicles or checked luggage. Its mirror box weighs just 19 lb, including its optional primary mirror, and stands just 46 inches when pointed at the zenith. Each TT/Journey Dobsonian travel-scope features a lightweight Feather Touch Focuser, 3-vane curved secondary spider assembly, and Teeter's spring- tension virtual counterweight system. The TT/Journey is also available with an f/4.5 primary mirror manufactured by Lightholder Optics ($3,900) or Zambuto Optical ($4,300). See the manufacturer's website for additional options.
SkyandTelescope.com's New Product Showcase is a reader service featuring innovative equipment and software of interest to amateur astronomers. The descriptions are based largely on information supplied by the manufacturers or distributors. Sky & Telescope assumes no responsibility for the accuracy of vendors statements. For further information contact the manufacturer or distributor. Announcements should be sent to nps@SkyandTelescope.com. Not all announcements will be listed.