This year's youth awards from the Astronomical League showcase some talented students and their dedication to astronomy.
On paper, the Astronomical League ranks as one of the largest amateur-astronomy organizations in the world, boasting 16,000 members and 298 participating clubs.
But what makes this organization unique is its continued support of individual and collective achievement in astronomy. For example, the League sponsors more than 50 observing programs that award you with a small commemorative pin once you complete a particular topic's requirements.
That said, the League's two highest-profile award programs involve the recognition of promising young astronomers and of those amateur clubs that do the most to promote Astronomy Day each year. The League's officers lauded both sets of the award winners for 2016 at its annual conference, held in mid-August.
National Young Astronomer Awards
It was a very long time ago, but I still recall how my passion for astronomy caught fire during high school. Back then it was the dawn of planetary exploration, and I could spout facts and stats endlessly. But my knowledge paled to what this year's winners of the National Young Astronomer Awards have accomplished.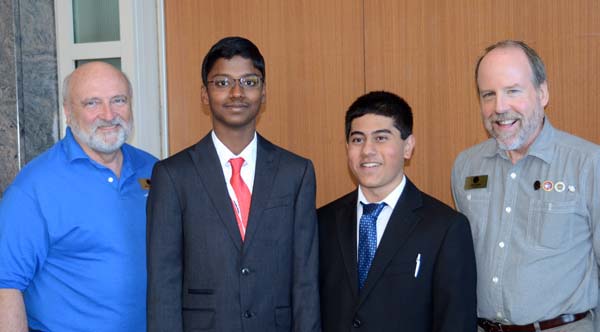 For example, take the team of Jayasuriya Senthilvelan and Swagat Bhattacharyya, this year's first-place winners. These 10-grade students from Clovis, California, and Morgantown, West Virginia, met two years ago during a summer math-and-science workshop at Green Bank Observatory. While there, they decided to use radio telescopes to look for the hydroxyl (OH) radical in some interstellar clouds.
They started by taking data with Green Bank's 40-foot dish, but they found it wasn't sensitive enough, so they decided to "go big" and got time on the iconic 100-meter Green Bank Telescope to complete their observations. Then they developed their own search algorithms for sorting through their noisy spectra. Look for their results to be published sometime soon. (Did I mention that they were high-school freshmen when they took all this data?)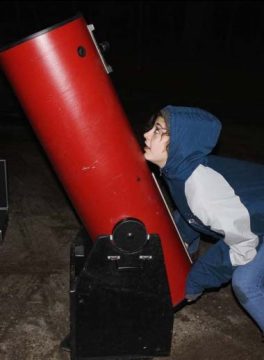 I don't know how the NYAA judges managed this year, because Jayasuriya and Swagat had fierce competition from Megan Gialluca, an 11th-grader from Brookline, New Hampshire. When she's not sharing views through her 10-inch Dobsonian with other members of the New Hampshire Astronomical Society, Megan's hunting down telltale patterns in the "glitches" and "anti-glitches" of distant magnetars (neutron stars with extremely powerful magnetic fields).
Glitches occur when the the rotation of these stars' super-fluid interiors accelerate, and anti-glitches occur when they slow down. Megan couldn't find all the answers she needed just using literature searches, so she connected with magnetar specialist Robert Archibald (McGill University) to fine-tune her hypothesis on when and how these effects occur. The title of her results is "Radiation-Hydrodynamic Outflows and Magnetar Glitches and Anti-Glitches." Her high school's news site has a nice write-up of Megan's work.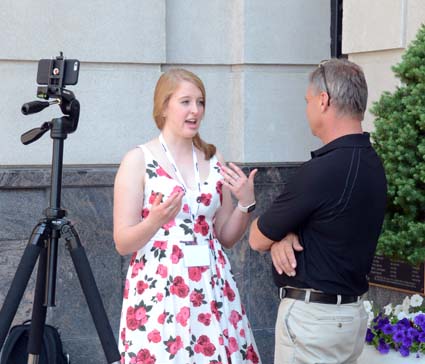 The League also recognized the efforts of Katie Melbourne, a member of the Popular Astronomy Club in Illinois, who's now a freshman studying astrophysics at Yale. Katie became hooked on astronomy several years ago, tearing up the astronomical landscape with visits to Kitt Peak National Observatory (where she had an observing run or two), a six-week stint at Boston University (research on M dwarfs), and a class at Northwestern University. But it was her dedication to her club's star parties that earned Katie the 2016 Horkheimer/Smith Youth Service Award.
Virginia Mellott took home the Horkheimer/D'Auria Youth Service Award for her efforts as a member of the Charlottesville [Virginia] Astronomical Society and for the articles she wrote for her high-school and local newspapers. Eighth-grader Clay Parenti (Houston Astronomical Society) and 5th-grader Ephraim Craddock (Baton Rouge Astronomical Society) won the 2016 Horkheimer/O'Meara Journalism Award for essays they wrote on Kepler's Laws and Tabby's Star, respectively.
Last but not least, Ginger Mellott (Charlottesville Astronomical Society), Clay Parenti, and Benjamin Dutschmann (North Houston Astronomy Club) won the Horkheimer/Parker Youth Imaging Awards for their terrific pictures of the Milky Way, lunar craters, and Orion Nebula (respectively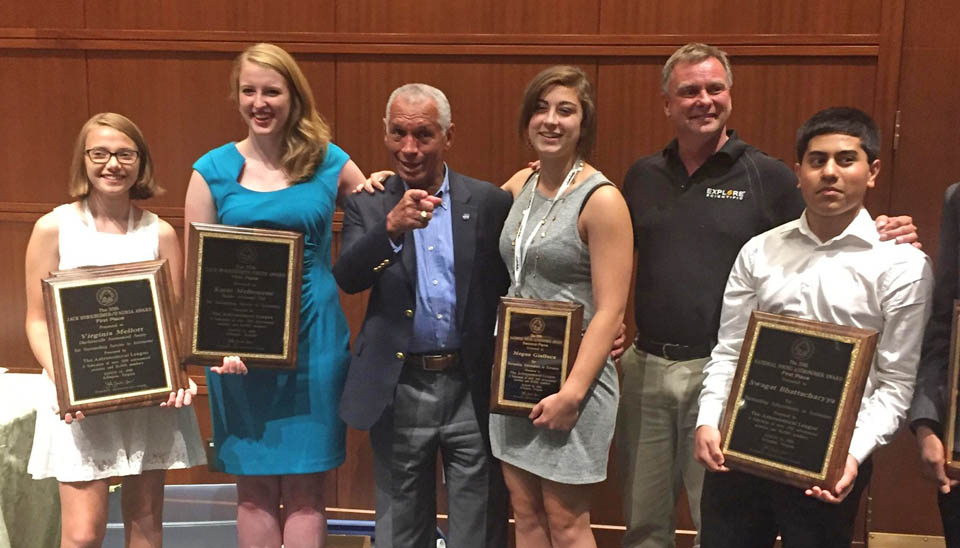 This year's award winners were feted at the League's annual banquet, which featured NASA Administrator Charles Bolden as the keynote speaker. (These kids got plenty of quality time with Bolden at their dedicated dinner table — lots of selfies got taken.)
By the way, veteran telescope supplier Scott Roberts has generously supported the League's NYAA program for many years. He was on hand to interview the NYAA awardees — and to give Explore Scientific telescopes to the top winners. Here are videos he posted on Facebook to introduce the awardees, a chat with Katie Melbourne, and one with Virginia Mellott.
Congratulations to all these amazing young astronomers! And if you know an aspiring student who is passionate about the night sky — or if you are one — then check out the NYAA program or one of the Horkheimer Service Awards for next year's competition.