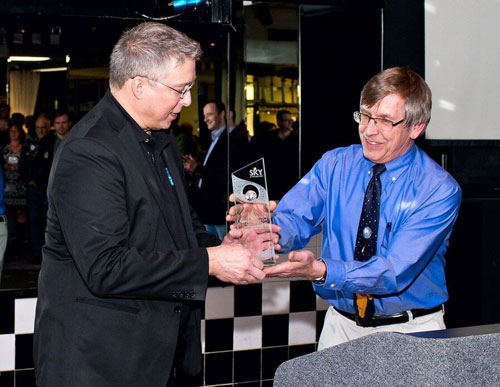 The editors of Sky & Telescope made the annual pilgrimage to last weekend's Northeast Astronomy Forum, which drew 120 exhibitors and thousands of attendees — a thriving show that has just celebrated its 25th anniversary. Here are our tales of the voyage to Pluto, the newest gadgets, and encouraging encounters with readers.
Hello, NEAF, My Old Friend
JR, Observing Editor
The Northeast Astronomy Forum (NEAF) is like that old friend who now lives across the country or halfway across the world — you see them only once a year or so, but when you do, conversation picks up from wherever you last left it and doesn't stop until you part ways again.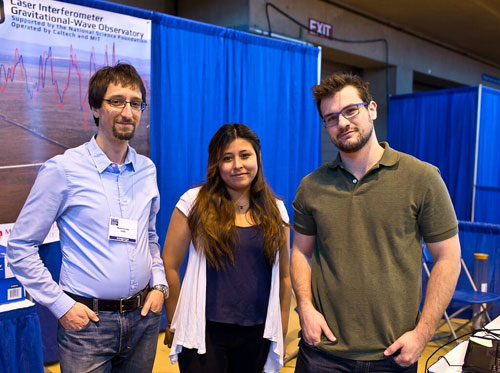 This has been a good year for astronomy and space sciences, and the vendor and speaker list for NEAF reflected these victories. LIGO had a booth with a model laser interferometer on display (yay for gravitational waves!) and both ULA and SpaceX gave presentations in the main auditorium (two thumbs up: one for launching rockets, one for landing them on drone ships).
Equipment and gadget representation was deep, as was the list of clubs and societies represented on the vendor floor. I met some terrific people. I had a fascinating discussion about designing and building a roll-off roof observatory, continued a conversation I started last year with a local astronomy teacher, and listened with pleasure as one reader described his new dual-scope system.
Many of us — and I include myself in this number — attend NEAF with the aim of upgrading our systems or picking up some new equipment, but let's face it: the biggest draw this weekend was Pluto.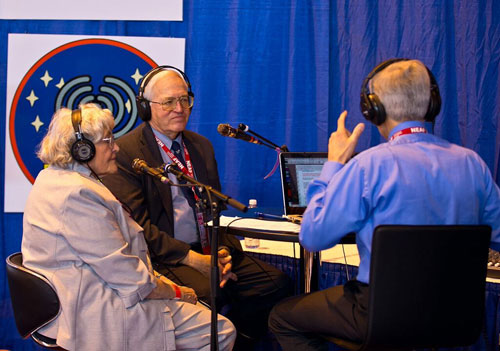 On Saturday, Alan Stern, Principal Investigator of New Horizons, shared some of the more astonishing discoveries made during last July's Pluto flyby. Alan's talk was followed by a presentation by Annette Tombaugh-Sitze and Alden Tombaugh, children of Clyde Tombaugh, discoverer of Pluto. S&T Senior Editor Kelly Beatty moderated the discussion. I think I speak for everyone in the auditorium when I saw we all wished we could have been at the Tombaugh dinner table for one of those "energetic" discussions described by Annette.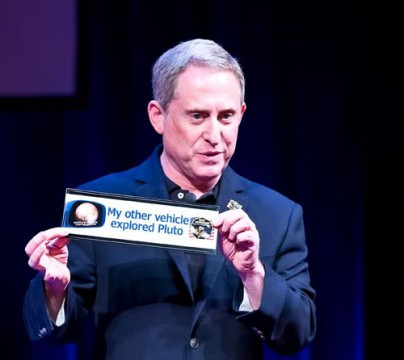 The Pluto story continued on Sunday with one talk on the infamous "Pluto vote" and another on Lowell Observatory's Pluto heritage. That people love Pluto was made even more obvious at the end of the day. Who wants to be the last speaker of the weekend, particularly when the slot is at 5:00 p.m. on a Sunday? Well, it probably sounds okay to Alice Bowman, Mission Operations Manager of New Horizons, because she's going to see a full auditorium no matter what!
Solar observing was a wash on Saturday (actually, it was a sleet, a rain, and a snow), but the viewing field was well attended on Sunday despite the cold — a large sunspot helped draw a crowd. I have a feeling Fred Espenak's Saturday talk on the upcoming total solar eclipse (August 21, 2017) might have inspired a few newcomers.
On a personal note, I feel very fortunate that my weekend began with an extended conversation with Wilbur Sitze and Annette Tombaugh-Sitze. You know you're hanging with the right crowd when the smartphone photos being passed around are equally divided between shots of the grandkids and shots of the refurbished refractor at Lowell Observatory. Annette has a level of daring I never had and never will (learning to fly at age 14? No.). Both Annette and Wilbur showed a graciousness of spirit that I hope to have one day.
So, yes, NEAF is just like that old friend. It's always sad to say goodbye, but we can look forward to getting together next year and doing it all over again, only better.
On the Exhibit Floor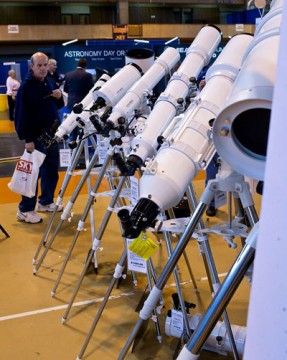 Rick Fienberg, Editor in Chief Emeritus
The amount and variety of technology available to today's amateur astronomers is truly mind-boggling. Whether you're a newbie in the market for a first telescope, an intermediate amateur looking to upgrade or to get into astrophotography, or a deep-pocketed enthusiast eager to trick out your home observatory with professional-grade equipment, NEAF provides an unparalleled opportunity to "kick the tires" of a wide range of suitable telescopes, mounts, cameras, and accessories.
I was surprised and delighted to see so many new companies from Europe and Asia exhibiting at NEAF for the first time this year. There's a lot of innovation happening in the astronomy-equipment industry, and it's not all happening in the US.
Telescopes, Mounts, and Gadgets Galore

Sean Walker, Equipment Editor
With so much new equipment on hand at NEAF, it was hard to see it all. Meade had an impressive display neighboring the Sky & Telescope booth, with its new Lightbridge Mini Dobsonians, as well as a redesigned ETX90 with removable OTA. Explore Scientific was also on hand with new offerings. Particularly impressive were its collapsible Dobsonian and a Go To drive system for Losmandy mounts.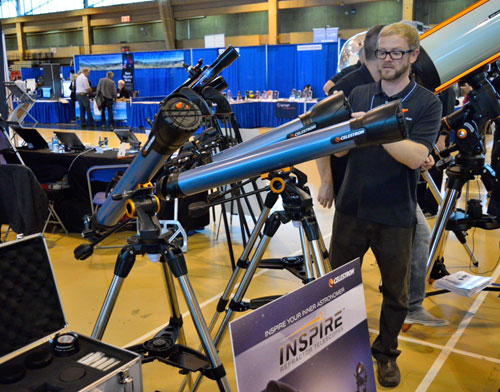 Celestron displayed a dizzying array of telescopes, including its new Inspire series of refractors with many well-thought-out design considerations, including an innovative lens cap that doubles as a universal smartphone adapter. The company also introduced a nifty red/white flashlight that doubles as a hand warmer.
Our friends at iOptron unveiled its latest offering, the AZ Mount Pro, which simplifies Go To alignment with their "level and go" routine — it couldn't be easier. The folks at Software Bisque had a massive Paramount Taurus fork mount, and they also unveiled TheSkyX for Linux platforms. Also of note was their tiny Raspberry Pi drive that can run all your equipment paired to your smart device. No laptop necessary!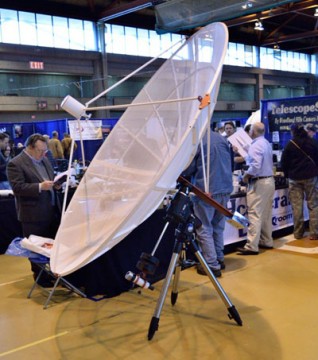 Tele Vue showed off 3 new additions to its popular DeLite eyepiece series, as well as the FoneMate, a universal smartphone adapter that connects to any DIOPTRX compatable eyepiece. SBIG was on hand displaying its latest self-guiding filter wheel, and Starlight Xpress showed off new cameras in its growing line of Trius CCD cameras. Atik also showcased an upcoming camera featuring the new KAF-16200 CCD detector.
The list goes on and on: Vic Maris of Stellarvue showed off his company's line of refractors, as well its new Optimus Eyepieces. DayStar filters introduced the new Combo Quark hydrogen-alpha and Calcium-K solar filter units for Schmidt-Cassegrain telescopes and long-focus refractors. And Howie Glatter displayed his company's collaboration with Starlight Instruments, the Feather Touch focuser with Parallizer self-centering technology.
Lessons to Take Home
Alan MacRobert, Senior Editor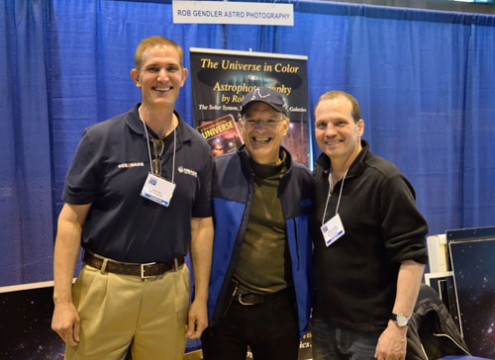 As always, it was a delight to meet loyal readers all day at NEAF and gab about everything astronomical. But the high point for me came late Saturday afternoon as the crowds were thinning. A 10th-grader came by and asked about what kind of astronomical research project she could do. She was in an advanced science class, it required a research project, and astronomy interested her most.
I started telling her about my experience with eclipsing binary stars. I timed them visually with my 6-inch reflector, in hours-long vigils behind the house when I was younger. Graphing the results on paper, wondering how to tell the statistical significance of my wobbly light curves, reporting my timings to an eclipsing-binary database that will last forever — this became my introduction to statistics and scientific analysis. And nowadays, masses of much better eclipsing-binary data are at your fingertips. I directed her to the AAVSO for projects.
She was lighting up, thrilled — and running ahead of me. What information can you find from a precision light curve? What level of precision? Why does a close binary star's period sometimes change?
She said that she would have to answer why this research was important. What good would it do people? I stretched to come up with a bit of astrophysics trivia, and then said, "The honest answer is you don't know. It's not given to us to know the final worth of what we do. So much of science has always been done on faith. On the chance that someday the work you are doing on some little thing may be really important in ways no one now can guess."
But she was already ahead of me, giving an example from science history. We talked of walking toward an empty horizon on the faith that something you cannot yet see may come over the horizon, if you keep moving in that direction. "Like life!" she said.
She was one smart kid. I bet the world will hear from her someday, and maybe she'll remember an astronomy project as helping point the way.