Three must-see astronomy pictures: Catch the just-released photo of last year's eclipse, 15,000 galaxies revealed in Hubble's new ultraviolet view of the deep sky, and star formation in action in the spiral galaxy M74.
A Higher View of Totality
When Jon Carmichael arrived for his Southwest Airlines flight 1368 on August 21, 2017, he was terrified. "I worried I would miss this once-in-a-lifetime moment."
But he didn't. As millions of people watched totality pass over the continental United States, Jon Carmichael photographed the beautiful view from a vantage point thousands of feet higher, aboard an airplane that took him from Portland, Oregon, to St. Louis, Missouri.
Carmichael arrived at the gate armed with all his camera gear and $600 cash. Southwest doesn't have assigned seating, but when he introduced himself to the flight crew, they gave him seat 1A, and the captain himself cleaned Carmichael's window. What's more, the flight crew agreed to perform a series of five 180° turns while under the Moon's shadow. The resulting views helped Carmichael capture the shots he needed to produce the stunning composite image below.
For Carmichael's account of his eclipse-photography project, watch this 2-minute video.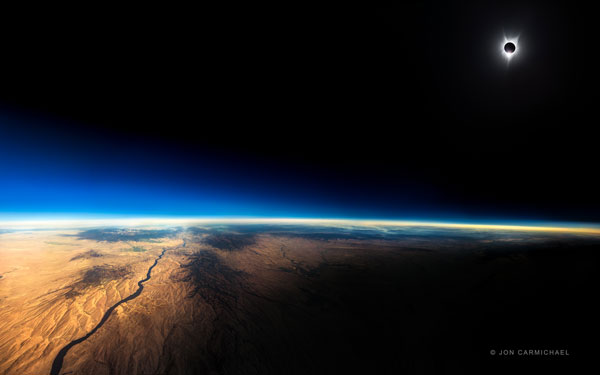 Hubble Photographs 15,000 Galaxies
Over the course of 132 orbits around Earth, the Hubble Space Telescope has imaged ultraviolet radiation in a region of sky covering 100 square arcminutes. That's 14 times the area of the Hubble Ultra-Deep Field. The result of this enormous effort is the Hubble Deep UV (HDUV) Legacy Survey, a catalog that includes 15,000 galaxies at so-called "cosmic noon," when the universe's star formation peaked. Unsurprisingly, almost all of these galaxies (12,000) are bursting with new stars. The survey will help astronomers understand star formation and galaxy evolution back to the dawn of time. It's also a captivating image in and of itself. Pascal Oesch (University of Geneva, Switzerland) and colleagues have published the catalog in July's Astrophysical Journal Supplement Series.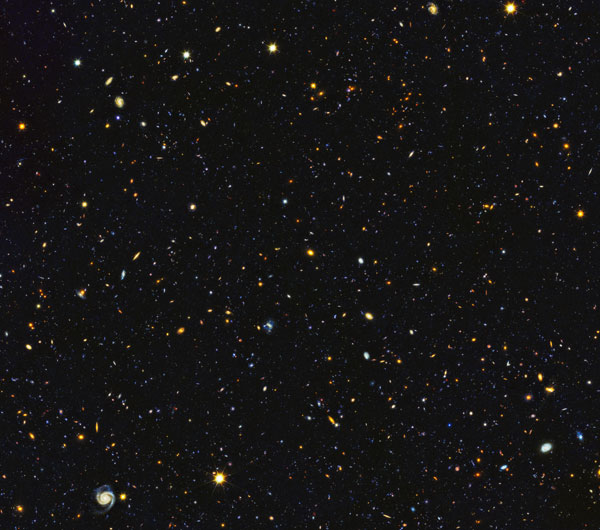 New stars emit primarily ultraviolet radiation. But the expansion of space stretches the wavelength of light coming from distant galaxies at cosmic dawn. What was once ultraviolet radiation falls on detectors at infrared wavelengths. Until now, astronomers weren't easily able to interpret these infrared emissions, because only a few deep ultraviolet studies had been attempted for relatively nearby galaxies. The HDUV Legacy Survey solves that problem, giving astronomers the broad-spectrum information they need to understand star formation at its peak.
Read more and find higher-resolution images in NASA's press release.
Seeing Spiral Galaxy M74 in a New Light
Speaking of star formation, a fascinating new image shows how star formation proceeds in the galaxy M74. Kathryn Kreckel (Max Planck Institute for Astronomy, Germany) and colleagues imaged the nearby spiral using the Atacama Large Millimeter/submillimeter Array (ALMA) and the MUSE instrument on the Very Large Telescope.
As the images are able to resolve details smaller than 200 light-years across, the two images together (superimposed below right) show exactly how stars form in the galaxy's spiral arms. ALMA traces millimeter-wavelength emission from the cool gas reservoirs that feed forming stars (blue at right below), while MUSE tracks the hydrogen-alpha emission that comes from star formation itself (yellow at right below).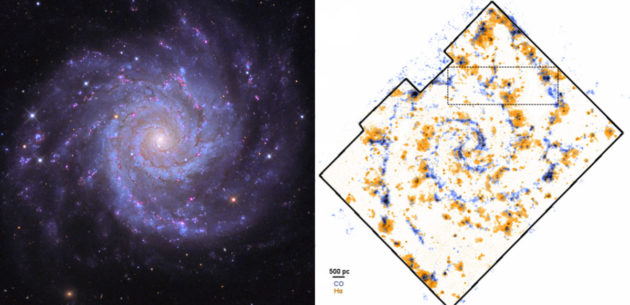 The spiral patterns seen at millimeter and visible wavelengths don't rotate themselves; rather, they trace the evolution of the wave of star formation that's passing through the galaxy's disk. The blue-colored spiral shows the earliest stages of star formation, while the orange-colored spiral shows the stars, newly formed.
Read more about these observations and their implications for M74's evolution in the August 14 Astrophysical Journal Letters.