It sounds like science fiction, but it's not: NASA's New Horizons mission explored the Pluto system this summer!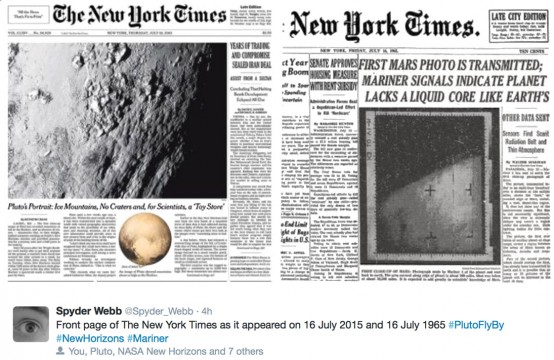 Exactly 50 years to the day after Mariner 4 became the first mission to explore Mars, New Horizons completed the first era of planetary reconnaissance by flying past Pluto on July 14, 2015. In my final "insider blog" for SkyandTelescope.com, I want to give you a recap of the main findings that came from the initial data returned from the spacecraft.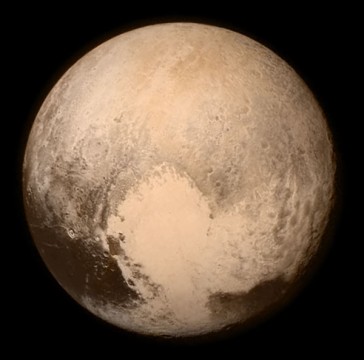 Regarding Pluto, we found a wonderland of diverse geological expression, with both old and young surfaces, mountain ranges, polygon-subdivided ice plains, flowing glaciers, and possibly even evidence for subsurface liquids. Pluto's mountains require strong materials to survive (and not slump) over time, indicating Pluto's crust is likely to be composed of water ice, rather than a deep layer of frozen nitrogen, which is soft and malleable to form long-lived mountains.
We also found that Pluto was bigger — 2,374 km in diameter — than most past estimates. This larger true size, combined with Pluto's already well-known mass, means its true density is lower than we thought. So the ice fraction is higher (35% or 40%) and its rock fraction lower (60% or perhaps 65%).
Meanwhile, its tenuous atmosphere has a base pressure of less than 10 microbars (about half what ground-based measurements had predicted), and it contains widespread hazes, several new molecular species (including acetylene and ethylene).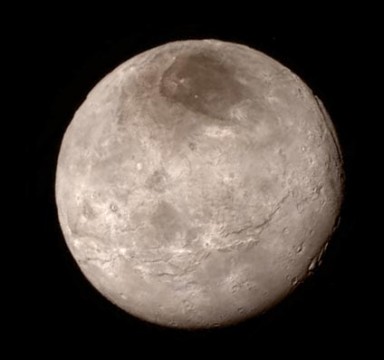 Regarding Charon, we found no evidence for an atmosphere — though the final verdict depends on data not yet back on Earth. We also found a more complex geological story than many had anticipated.
Most of us expected Charon to be little more than a battered ball of water ice and craters. Instead, we found tectonic ridges, chasms, and mountains, along with a strangely dark red stain covering its north polar region.
Next Steps
The New Horizons science team is now at work mapping both bodies and preparing to formally submit names for specific surface features to the International Astronomical Union. We've been naming features informally, drawing from the "OurPluto" name banks that New Horizons and NASA conducted with the public's help. Preliminary maps of both Pluto and Charon are below.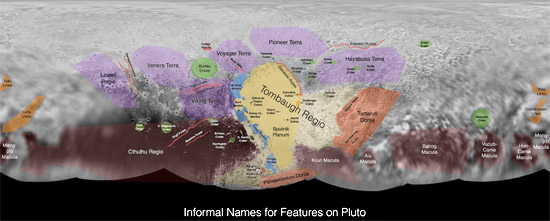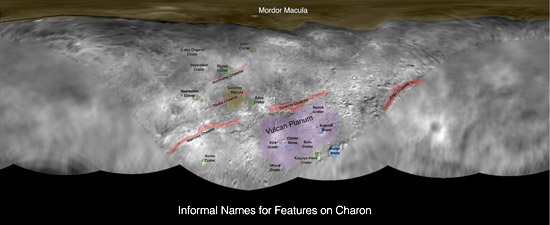 Regarding Pluto's small satellites, we've learned the sizes of Nix (35 km in diameter) and Hydra (41 km), and our first looks reveal brightness and color variegation across their surfaces. We found their albedos (reflectivities) are higher than expected — so high in fact that both are likely ice covered. (Resolved images of Styx and Kerberos have not yet been returned as of this writing.)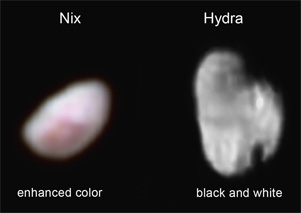 Most surprising to me about Pluto's satellites, however, is that, despite searching with about 15 times more sensitivity than even the Hubble Space Telescope, we didn't find any more —not even one. Few on our science team would have predicted this, including myself.
The flyby of Pluto and its system of moons by New Horizons is complete, but over 95% of the data from that reconnaissance is still aboard the spacecraft, awaiting downlink to Earth. Getting all those observations back will take some 16 months and won't complete until the fall of 2016. So expect many more images and spectra and, from those, many more discoveries in the months ahead. New Horizons is a gift that will keep on giving.
---
Check out Alan Stern's first, second, and third previous blogs for SkyandTelescope.com.