In the first of a series of installments written exclusively for Sky & Telescope, New Horizons principal investigator Alan Stern offers his behind-the-scenes perspective on the navigational effort needed to get the spacecraft to Pluto.
It sounds like science fiction, but it's not: New Horizons is on final approach to the Pluto system! After 111 months in flight, the fastest spacecraft ever launched is now less than 100 days from its destination.
Closest approach of the flyby occurs on July 14th at 11:49:58 Universal Time, at a carefully selected miss distance just 7,800 miles (12,500 km) from Pluto's surface.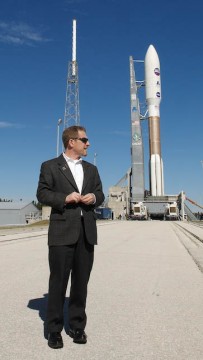 In this first "insider" blog about the mission for Sky & Telescope, I want to give you a look at an under-appreciated but crucial part of the approach to Pluto: navigating and homing in on the target point of the flyby. This activity involves the New Horizons team at the Johns Hopkins Applied Physics Laboratory in Maryland; our primary navigation team at KinetX Aerospace in California; and our independent navigation team at NASA's Jet Propulsion Laboratory, also in California.
The work done by these groups is absolutely critical to mission success at Pluto because, unless the proper aim point at closest approach is achieved, several mission objectives in the exploration of Pluto and its system of moons will not be accomplished. Among these are the critical solar and Earth occultation observations that will probe Pluto's atmosphere and search for an atmosphere around Charon. Their success depends critically upon hitting a narrow window of space at closest approach. If that window is missed, the spacecraft will not end up where it needs to be to cross the occultation shadows of Pluto and Charon a few hours later — and it will therefore be impossible to observe the Sun and Earth rising and setting above Pluto and Charon to observe how their atmospheres are structured and composed.
Also at risk will be a good fraction of our close-approach geological and composition mapping of Pluto and Charon. Why? If the aim point window is missed, the spacecraft's instruments might take many images and spectra of blank sky instead of Pluto or Charon.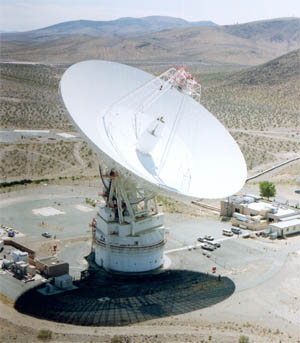 How do we navigate and home in on the aim point? First, we must determine where the spacecraft is — and where it's going — to high accuracy. To achieve this, we combine radio tracking of the spacecraft's trajectory (using NASA's Deep Space Network of tracking antennas) with a technique called optical navigation, in which New Horizons uses an onboard imager called LORRI to record the precise positions of Pluto and its satellites against background stars.
We've been taking these images for years, and once radioed to Earth they're analyzed to determine how far off course the spacecraft is — or how far off Pluto is from its expected position. (After all, we've never been there, and its orbit is less well know than those of planets closer to the Sun.)
The pace of these positional determinations will increase in the days and weeks leading up to the encounter. From those calculations, our two navigation teams — after cross-checking one another — compute the timings and durations for a series of six trajectory-correction rocket maneuver opportunities that occur in the flight plan between May 15th and July 1st. (We might not use all six, depending on how close the spacecraft is to its planned trajectory.)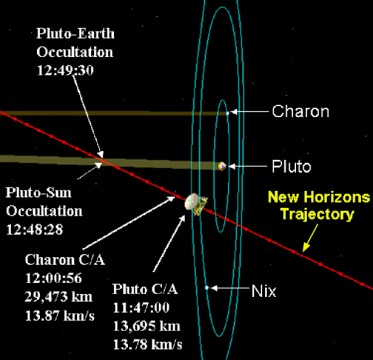 After July 1st, engine burns are no longer feasible due to other on-board activities associated with the approaching encounter. But the navigation teams will continue to use radio-tracking and optical-navigation data to compute how far off we are from the planned arrival time at closest approach. That's the most critical parameter. Knowing that, they can then upload timing offsets to the spacecraft that precisely compensate for the estimated timing error. In effect, we'll shift the flight plan's carefully orchestrated sequence of events forward or backward to keep the timeline synched to the spacecraft's intended position relative to Pluto and its moons.
The expert engineers working on this portion of the New Horizons team are some of my heroes on the project. Imagine: they are driving New Horizons to thread the imaginary eye of a needle in space above Pluto — by remote control from Earth — that's 3 billion miles and 4½ light-hours away. Without them, much of the science of the Pluto flyby would be lost. Thanks to their work, we expect to arrive at Pluto closest approach to within just 8 minutes of the expected time after a journey of 9½ years (that's 5 million minutes) and less than 500 miles of the expected position error after traveling all those 3 billion miles.
Now that's precision engineering!