As you'll hear in this month's podcast, April is a time when it's easy to spot a lion, a sea serpent, and two bears in the evening sky.
April evenings are finally warm enough to linger outdoors comfortably for quite a while. During most of the month, the Sun sets between 7:30 and 8, and by 9 p.m. it's good and dark.
Orion is a wintertime constellation for us northerners, and he's tipped down toward the western horizon while making a gradual exit from the evening's celestial stage.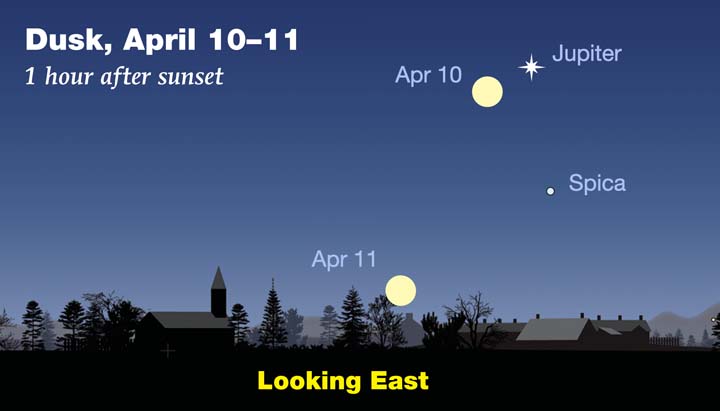 Jupiter is on the other side of the sky as darkness falls, just over the eastern horizon. Don't confuse Jupiter with the dimmer star Arcturus, about three fists to its left and a little higher up.
Look well above Jupiter for the distinctive constellation of Leo, the Lion.Along the southern horizon you'll find the long but dim constellation Hydra, and in the north the Big and Little Bears are high up.
You can listen to or download our monthly astronomy podcast below. It provides an 8-minute-long tour of the stars and planets that you'll see this month.
Podcast: Play in new window | Download
Subscribe: Apple Podcasts | Android | Email | Google Podcasts | Stitcher | Spotify | RSS | More