Contributing editor Alan Dyer reviews a selection of new products unveiled at the annual Arizona Science & Astronomy Expo.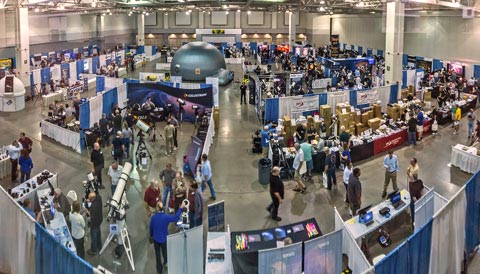 In its third year, the annual Arizona Science & Astronomy Expo attracted large crowds to the two-day showcase on November 1st and 2nd at the Tucson Convention Center. Now the largest telescope show in western North America, the ASAE is the brainchild of Alan Traino, who for many years was the driving force behind the equivalent East Coast event, the North East Astronomy Forum (NEAF).
Many of the major companies supplying products to the amateur astronomy market in North America were represented. Here's a quick walk around the exhibit floor, with stops at some of the new products on offer.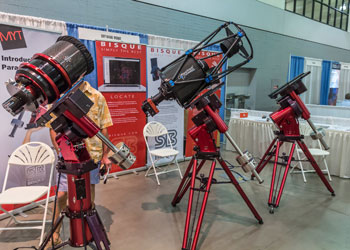 Software Bisque showcased its expanding line of Paramount robotic equatorial mounts for high-end imaging. The Paramount MX+ and ME II have long been popular for remote imagers, are now joined by the smaller Paramount MyT, rated for a load capacity of 50 pounds (not including counterweights) — that's still quite a lot of telescope.
Explore Scientific's growing line of products include a new premium equatorial mount, the TB100, designed in Germany and planned available in 2015. The company also introduced a series ultra-light Dobsonians, in 10-, 12.5-, and 16-inch models, with mirrors from f/4.5 to f/5. Each model breaks down into two cases plus the truss poles.
iOptron continues its innovative "center-balanced equatorial mount" design with the new CEM60-EC, now the largest mount in the iOptron line. With a stated payload capacity of 60 pounds, it's available with either standard or high-precision encoders.
Sky-Watcher USA showed off its new 18-inch f/4 truss-tube Dobsonian, with a lightweight conically-shaped mirror, and other weight-saving design features. The company also introduced the Az-Eq5 mount, a downsized version of their popular Az-Eq6. Both can be used as either traditional German equatorial mounts or as GoTo alt-azimuth mounts. The Az-Eq5 is expected to cost about $1,000 and will be available soon.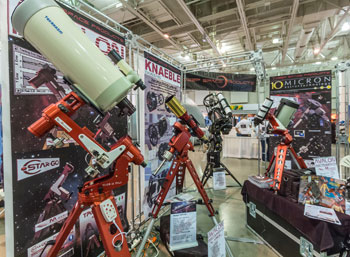 Deep Space Products booth featured many European mounts, with eye-catching models including the Avalon M-Zero Single Arm Equatorial/Alt-Az Mount and larger M-Uno mounts from the Italian firm Avalon. The M-Zero attracted a lot of attention for its Ferrari-red finish, reconfigurable single-fork design, belt drives to eliminate periodic error, and GoTo control via an Android app.
Celestron exhibited its full line of Evolution Schmidt-Cassegrain telescopes, which feature wireless GoTo control via mobile devices using a built-in WiFi connection. The series now includes 8-inch and 9.25-inch models, as well as the original 6-inch model. All of the telescopes can now be controlled by either Celestron's Sky Portal app or, for those requiring larger databases, the popular SkySafari Pro app (for iOS or Android). Engineer Eric Kopit demonstrated the company's new 11-inch f/2.2 Rowe-Ackermann astrograph, with optics optimized for fast, wide-field imaging with DSLR or CCD cameras mounted at the prime focus.
Lunt Engineering showed off their new Lander Series of piers, some with electric screw-driven center posts for adjustable eye height (great for public viewing). The Power Lander model (about $3,000) holds Lunt's new 100-mm ED-APO binoculars with interchangeable eyepieces.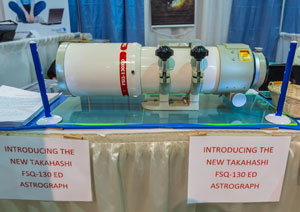 Texas Nautical displayed one of only two Takahashi FSQ-130ED astrograph refractors in the world. This new model, still in prototype, expands upon the legendary reputation of the popular FSQ-106, but with a new five-element f/5 design, including three ED glass elements, providing an enormous 110-mm image circle. A reducer will convert this already fast astrograph into a 455-mm focal length f/3.5 system with a 70-mm image circle.
Adding to its already extensive line of equatorial mounts, Vixen showed their new Advanced Polaris AP, an entry-level mount that comes with the new Starbook One hand controller. The mount can be configured as a basic single-axis tracker or as a full two-axis mount.
---
Peruse a vast selection of astronomy products — new and used — at our MarketPlace classifieds.