The Northeast Astronomy Forum in Suffern, NY, welcomes visitors from across the world on April 12–13. Sky & Telescope will be there. Will you?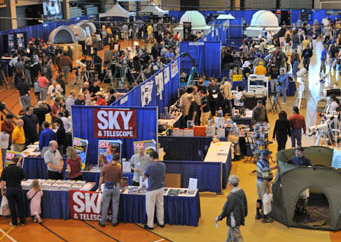 The office at Sky & Telescope has been abuzz this week, as we pack up for our annual pilgrimage to Suffern, NY, for the Northeast Astronomy Forum (NEAF) on Saturday and Sunday, April 12 and 13, 2014. Billed as "America's Premiere Astronomy Expo," NEAF is celebrating its 23rd year.
Founded by the Rockland Astronomy Club, NEAF began as a small affair held in a cozy corner of the campus of Rockland Community College. Now it fills the college's sports arena with the world's largest trade show for amateur astronomy gear, in addition to presenting all-day astronomy programs for the public.
Take a tour of NEAF from last year:
This year's show will have more than 115 vendors and exhibitors providing lots of cool new products from telescopes to cameras. Many vendors offer discounts at the show.
NEAF also includes two full days of workshops and lectures by renowned speakers, including S&T's own Monica Young, who will discuss news from the black hole at the center of our galaxy.
Neil deGrasse Tyson — director of New York's Hayden Planetarium and host of the remade Cosmos TV series currently airing — will make a live video appearance in the main auditorium taking questions from NEAF-goers.
Other speakers include Alan Stern, Pluto expert and principal investigator for NASA's New Horizons' mission (which will arrive at Pluto next year), and Matt Greenhouse, project scientist for the post-Hubble James Webb Space Telescope. Here's the schedule.
"I really enjoy attending NEAF every year because it gives us the chance to talk one-on-one with hundreds of readers," says S&T Editor in Chief Robert Naeye. "Last year we got lots of positive feedback about our magazine and website, and several very good suggestions for topics of future articles."
But NEAF isn't just about booths and talks. If the Sun cooperates there will be a solar star party outside all day. Professionals and volunteers will share an array of telescopes and filters for close-up looks at our lively Sun.
Events for children include planetarium shows and a Children's Corner, where kids can learn about astronomy and build rockets out of soda bottles. To be honest, I'm not entirely sure why this is targeted only toward children, because it sounds like a ton of fun to me.
We're looking forward to making the journey to NEAF again this year, and we hope to see you at our booth!
P. S.: We'll have 20%-off coupons for every item in Sky & Telescope's online store.