After more than a decade of tantalizing but inconclusive hints, new research shows convincingly that patches of water ice lie exposed on the floors of many permanently shadowed lunar craters.
The quest to find water on the Moon is a scientific pendulum that has swung widely over the centuries. Long ago we used "seas" to denote the Moon's dark, roughly circular areas, believing them to be reflections of Earth's oceans. The telescope changed that fanciful notion, and then our thinking was totally reset when the first Apollo samples proved bone dry and lacked any minerals consistent with a moist Moon. Another return swing occurred when reanalysis of Apollo samples found substantial amounts water trapped in tiny beads of volcanic glass.
The pendulum now seems firmly pinned to the "yes, there's water" extreme with a research report authored by Shuai Li (University of Hawai'i) and seven colleagues in August 20th's Proceedings of the National Academy of Sciences. They used near-infrared spectra from an instrument on India's Chandrayaan 1 orbiter to provide strong, unambiguous evidence for deposits of exposed water ice in permanently shadowed craters at the lunar poles.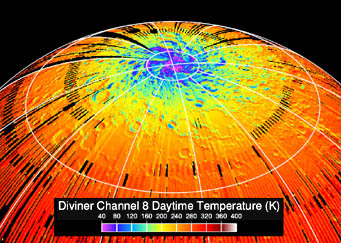 Water ice can remain inside these craters because their floors are never exposed to direct sunlight, the consequence of a lunar spin axis that's nearly (within 1½°) perpendicular to the ecliptic plane. Temperatures at these always-dark crater floors are extremely low, plunging to as low as 40K (–390°F) inside some of them. Any local traces of water vapor — delivered, say, by a small comet's impact — will freeze out at these "cold traps" and remain there.
Earlier observations had argued for water deposits inside these craters, but the evidence was indirect. For example, as early as 1994, radar pulses fired from the orbiting Clementine spacecraft and recorded on Earth after bouncing off the Moon revealed some polar craters that reflect the radio energy strongly, suggestive of water ice sequestered on their always-dark floors. More recently, cleverly obtained images from lunar-orbiting spacecraft show that the polar craters' shadowed floors are relatively bright at ultraviolet and near-infrared wavelengths, but being "bright" doesn't automatically mean "due to ice" — other explanations are possible.
Here's another smoking gun: An instrument on NASA's Lunar Reconnaissance Orbiter has counted neutrons in a specific energy range emitted from the lunar poles that must have interacted with hydrogen atoms and thus, most likely, water. (Here's a 2-minute-long NASA video that explains this detection technique in more detail.)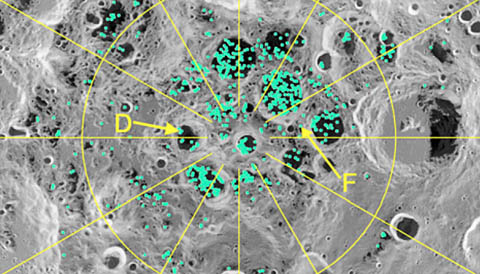 But the neutron-spectrometer work can't distinguish molecules of water (H2O) from its chemical relative hydroxyl (OH), which readily binds to rocky minerals. Also, the neutrons could be coming from the surface or from depths of up to a few tens of centimeters (up to 1 foot down).
The work of Li and his colleagues sidesteps all of these ambiguities by looking for three specific near-infrared absorptions — near 1.3, 1.5, and 2.0 microns — created by vibrations in water ice lying directly on the lunar surface. They carefully examined spectral maps made by the orbiter's Moon Mineralogy Mapper, or M3, and repeatedly found all three absorptions in the map pixels that corresponded to permanently shadowed crater floors at both lunar poles.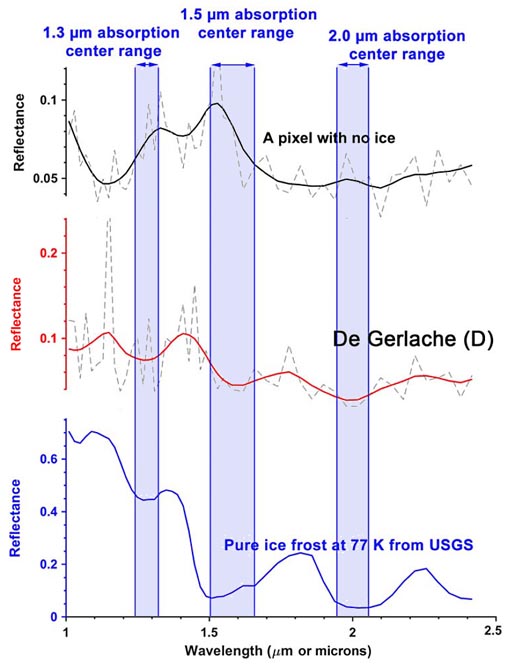 Modeling suggests that this three-band technique is sensitive enough to identify surface deposits containing as little as 2% to 5% water ice by weight. Moreover, the M3 spectra only signal the presence of water in craters poleward of latitude 70°, and 90% of the positive detections occur within 10° of each pole.
"I did not have any hope to see ice features when I started this project," Li explains in a press release from the University of Hawai'i. "I was astounded when I looked closer and found such meaningful spectral features in the measurements."
He adds that understanding the processes that led to water ice on the Moon provides clues to understand the origin of water on Earth and throughout the solar system. And of course knowing that water ice lies exposed at the lunar poles is a big plus in the minds of those designing future lunar colonies.