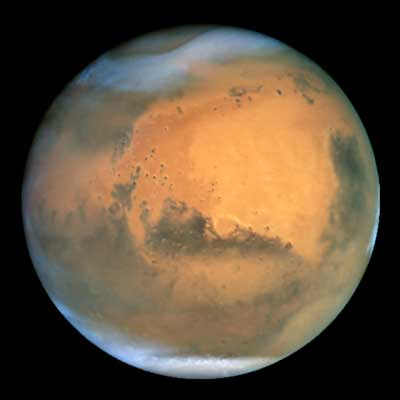 I was hooked on Andy Weir's The Martian, which opens in theaters tonight, from the first page. What got me (and many readers I've talked to) is not just the fast-paced action, but the well-researched detail filling every page. Everything from NASA's (over)protectiveness of its astronauts to the harsh realities of living on a barren world grounds the novel in reality and makes the story seem almost real — as if this kind of space exploration could actually happen within my lifetime.
As the novel's incredible popularity proves, these details aren't just for sci-fi nerds like me (I'm pretty sure I have my club card somewhere). What struck me was that every woman in my neighborhood moms' book club was as taken as I was by the richness of the details, even when they delve into math and engineering.
But I didn't just bring my thoughts on the book to our gathering. I appeared on the doorstep carrying the 12-inch Sky & Telescope Mars globe, and I passed it around as soon as I stepped inside. We could trace with our fingers the path Mark Watney took in the book. Finding Acidalia Planitia, then following the trail through Arabia Terra to his ultimate destination puts his voyage in perspective. (And some of my friends were surprised to find out just how much of the novel's story was based on reality!)
I also borrowed the big the Mars topography map that hangs on my colleague's wall (leaving in its place a vague post-it promise that I'd bring it back). That map is larger and thus more heavily labeled than the globe, so not only could we see the distance Watney covers in the book, we could also see the terrain changes he navigated through and see the individual named craters he passes in his journey.
I'm not saying that you should go out and buy a Mars globe or a Mars topography map in order to really appreciate this book. (But I won't stop you if you want to! Save $20 on the globe on October 2nd by using the coupon code MARTIANS at checkout.) Either way, it's undeniable that these resources help us (and our families, friends, and students) understand worlds outside and very different from our own.
(Check out our Mars Collection too: a collection of everything we've got on Mars at 25% off!)