New maps from NASA's Dawn spacecraft reveal more about both the landscape and composition of the largest asteroid.
Dawn team members presented new maps of the dwarf planet Ceres today at the European Planetary Science Conference in Nantes, France. We're still not at the point where we're taking snazzy spectra of the surface — so no word yet on what those bumfuzzling bright spots are made of. But one of the released false-color maps does show how the surface's composition changes across the asteroid, so we're getting closer. Literally: in October, Dawn will begin descending to its lowest orbit around the asteroid, which is when it'll take those long-awaited spectral measurements.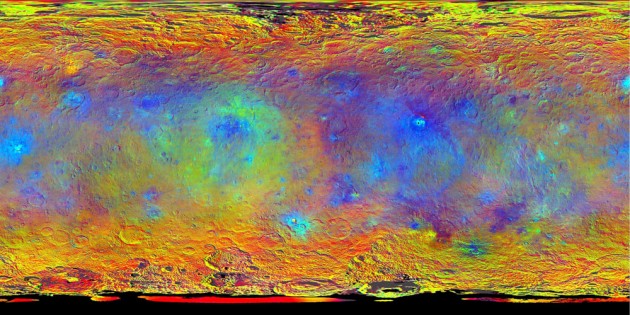 The team determined how the surface's makeup changes by taking images through different filters: infrared (920 nanometers), red (750 nm), and blue (440 nm). A feature appears brightest at the wavelength at which it reflects the most light; the reddest places are those that strongly reflect infrared light. Green marks the happy medium locations, where features are very reflective at all wavelengths — in science speak, the albedo is high. One of those locations is, naturally, the bright spots in the crater Occator. That crater is the divot carved out of the big blue region to the map's center right.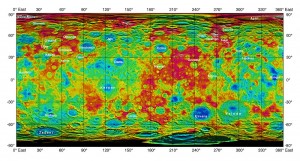 As you can see from the topographic map at right, the crater Occator lies in a highlands region and doesn't dig as deep into the surface as other craters. What does that mean? For now, not a clue. (Bring on those spectra!) The map also has some new and approved feature names, such as the 20-kilometer-wide (12-mile-wide) Ysolo Mons near Ceres' north pole. Ceres' nomenclature falls into the category of agriculture-related spirits, deities, and festivals from cultures around the world, in keeping with the fact that Ceres was the Roman goddess of agriculture, grain, and (depending on the source you read) motherly love.
---
Like what you read? Subscribe to Sky & Telescope for science, observing, and equipment news. Respected by both amateur and professional astronomers!