The bright spots in Ceres' crater Occator are the gift that keeps on giving. Check out this latest composite image from NASA's Dawn spacecraft. I mean, wow.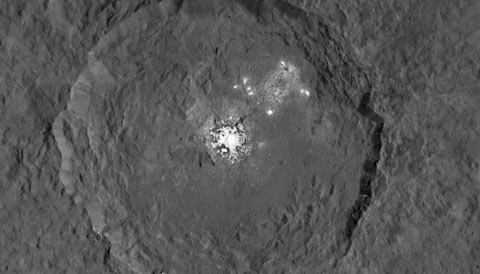 The team created this composite from images taken from the spacecraft's high-altitude mapping orbit (1,470 km, or 915 miles, above the asteroid's surface). The image combines two different ones: a short-exposure shot to capture the bright spots' details, and a regular one for the background surface. That's necessary because the spots' brightness is blinding: their albedo is about 50%, meaning they reflect 50% of the light that hits them. Compare that with the surrounding terrain's albedo of about 4% to 7%, and you can see why longer exposures geared to studying the asteroid's regular surface overexpose the spots (like the one from earlier this summer).
The central spot's splayed-out structure raises a lot of questions about why it looks that way. But mission principal investigator Christopher Russell (UCLA) cautions that we shouldn't jump to any conclusions using this latest view. Although the team has taken very careful exposures, those with the background clearly visible might have some saturation, he says. So we can't say for sure that the shapes we're seeing are definitely what are on the ground. We'll have to wait for the lowest mapping orbit — only 375 km, or 230 miles, above the surface — to know for sure. That's also when Dawn's spectrometer will be able to home in on the spots and reveal what they're made of. (You can add your vote to the mission's running poll.)
Below, you can watch a simulated flyover of Occator. Credit: NASA / JPL-Caltech / UCLA / MPS / DLR / IDA / PSI. And check out NASA's press release for more information.
---
Read all about the Dawn mission in our April 2015 issue.