New results from the Dawn orbiter show bright spots, a pyramid-shape mountain, and mysterious haze on the dwarf planet Ceres.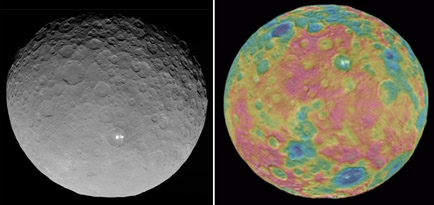 Four months is a long time to be looking at a rock. But Dawn has been doing just that since the spring, as it orbits around Ceres. Getting the long-awaited science results will take time, and the good stuff is only starting to beam back now. Dawn is gradually getting to altitudes low enough to use its impressive instruments for more than measuring, weighing, and taking snapshots of Ceres. The spacecraft currently occupies what's called the High Altitude Mapping Orbit (HAMO), step three of four in its orbital descent. The altitude of HAMO is 1,470 km (910 miles), a third the height of its survey orbit.
Some detail is already coming under close scrutiny. What has the mission's scientists abuzz are bright white spots that veritably shine inside Occator, one of Ceres's large craters, and elsewhere on the surface. Dubbed faculae by Dawn principal investigator Christopher Russell (after the bright spots that appear on the Sun's photosphere), these complex and perplexing features might be exposures of ice or salt. But no one knows for sure, because Dawn isn't close enough yet to get spectral information about the spots.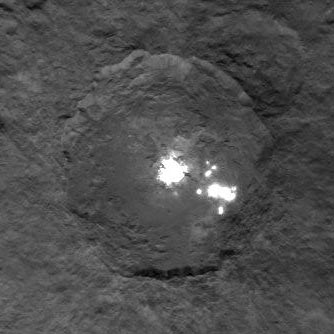 We've seen features similar to these spots other places in the solar system, for example on Comet 67P/Churymov-Gerasimenko, currently being scrutinized by ESA's Rosetta orbiter. However, "anything that bright and that small indicates to me transient behavior," says Russell, who gave a talk about the mission's findings last week. "The lifetime of ice is quite short at the surface of Ceres, so if it's ice it must have been very recently exposed or be constantly replenished," adds asteroid specialist Andrew Rivkin (APL).
Occator, however, is doubly interesting. "If you look [at it at noontime] at a glancing angle, you can see what seems to be haze," says Russell. It doesn't extend or flow over the crater's rim but instead fills and shrouds the interior. If real, it's the first ever haze observed in the asteroid belt. Haze suggests the presence of sublimating ice, which could point toward geologic activity that is somehow dredging water ice up from the dwarf planet's interior. A curious network of shallow fractures, called catanae, slice through the region. One of them cuts directly through Occator and its central bright spot.
Rethinking Ceres's Physical Properties
It's not just the spots and haze that has scientists rethinking what they know about the dwarf planet. First, Dawn's images show that Ceres is a slightly ellipsoidal body measuring 965 by 891 km (600 by 554 miles). That's smaller than we'd assumed, but not by much — so its overall density must be 2.16 g/cm3, about 4% higher than previous estimates. This increases the assumed percentage of water in the dwarf planet. "Ceres is a prototype wet protoplanet, intact from the earliest days of the solar system," Russell concludes.
Second, its axial tilt (or obliquity) is about 3° with respect to its orbital plane. That's the right amount, reversed in direction, from what astronomers had thought. In other words, we had its seasons swapped. Compared to Earth's 23.4° tilt, an astronaut on Ceres might not even notice the days change length throughout its 4.6-year-long orbit around the Sun. "The obliquity being small it doesn't make for a big difference in the lighting on the planet," says Russell.
The surface of Ceres is peppered with impact craters, though few are very large (Yalode, 271 km across, tops the list). Most fall into three types: simple, central-peak, and central-pit craters. Many show evidence of landslides and flow features, which again provide tantalizing hints of past geologic activity. This theory is further bolstered by observations from ESA's Herschel observatory, which in 2011–13 found solid evidence for water vapor hovering over specific regions of the big rock.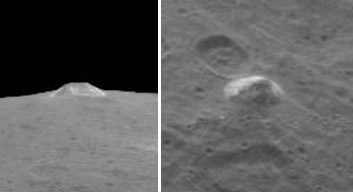 There's even a lonely mountain, which has been dubbed "The Pyramid" for its strange, steep-sloped geometry. It measures 30 km across its base and 5 km high. Some sides are stained white. "We don't understand it," admits Russell. The Dawn team is still waiting on spectra of the surface to analyze the quasi-faceted peak.
In January 2016, Dawn will be lowered into its closest (and final) vantage point over Ceres, a Low Altitude Mapping Orbit (LAMO) that's 375 km (235 miles) above the surface. This last level will give scientists their best spectral maps, gravitational measurements, and gamma-ray detections, as well as clearer snapshots of what's been seen so far.
And some of the features already seen have gotten permanent names. Since Ceres is a god of agriculture in Roman mythology, the naming theme adopted by the International Astronomical Union involves harvest deities. More specifically, craters will be named for gods and goddesses of agriculture and vegetation from world mythology, while other features will be named for agricultural festivals. The map below shows some of the first IAU-accepted monikers, and here's where to go to find out what they represent.