These stunning new images of spiral galaxy ESO 137-001 highlight its violent encounter with the intracluster plasma of Abell 3627, which is stripping away its gas and forming stars in the streamers.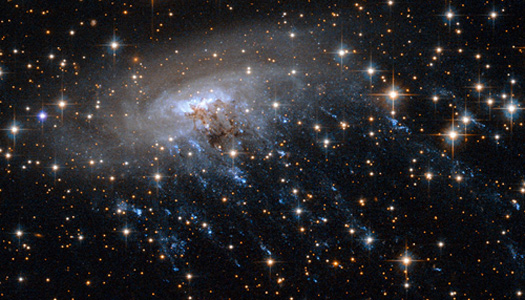 This new image from the Hubble Space Telescope shows the galaxy ESO 137-001, located in the Abell 3627 cluster in the Triangulum Australe. This spiral galaxy may look like a jellyfish casually trailing tentacles through space, but don't be fooled by its serene appearance. ESO 137-001 is being violently stripped of its gas and dust as it plows through the hot, diffuse gas filling the cluster. The interaction is forming new blue stars in the stripped streamers.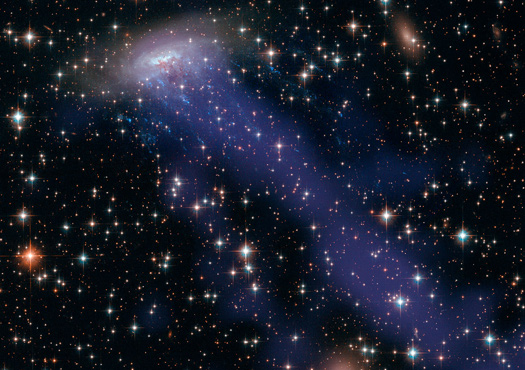 This "ram pressure stripping" shows up better in the second image, which is a composite of Hubble and Chandra X-ray Observatory images. Most of the gas is only visible in the X-ray part of the spectrum (shown blue).
Ram pressure is the pressure exerted on something moving through a fluid, such as water or air. This pressure creates drag. So essentially, ESO 137-001 is experiencing an immense drag as it moves through the gas permeating the galaxy cluster. The ram pressure in this intracluster medium is strong enough to strips off gas from the galaxy. It's like when you use a hair dryer on full blast and it splays hairs away from your head—it'll even launch hairs that aren't strongly attached away into the air. Except in this case, gas are being pushed "off" a galaxy.
Stars are too tiny (relatively speaking) and massive to be affected. But the gas in the streamers is turbulent, and parts of it become compressed enough to trigger the gravitational collapse of small cloudlets, which then form bright new stars.
Meanwhile, the stripping renders the victim galaxy unable to form new stars itself once its gas is gone.
Another fascinating example of the strange things that can happen to stars because of ram pressure stripping is that of IC 3418, a galaxy in the Virgo Cluster, whose gas tails may harbor one of the most distant individual stars ever seen. The effect might also explain why our Milky Way does not have more dwarf satellite galaxies visible.
Read the full press release from Hubble and the European Space Agency.