Sky & Telescope editors and staff made our annual pilgrimage to the astronomy expo to meet with our readers and get the scoop on the bevy of new products unleashed this year.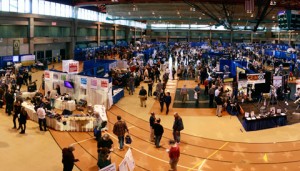 The editors and staff of Sky & Telescope traveled to Suffern, NY, this past weekend to attend the Northeast Astronomy Forum, a show where amateur astronomers come to drool over (and buy) new equipment, attend science talks, and meet up with fellow enthusiasts. There's something for everyone here: telescopes, lenses, gadgets, astrophotos, finely carved lens boxes, and kid's crafts and activities. And this year saw record attendance.
This year's show hosted more than 120 vendors with more exciting new products than any year before. The forum included a series of lectures by renowned speakers such as Alan Stern, the principal investigator of the New Horizon's mission to Pluto, Neil de Grasse Tyson, who among many other things hosts the reborn series of Cosmos, as well as S&T's own Monica Young. The crowds were large enough to pack every lecture, with some so popular that attendees were turned away at the door.
The Sun even cooperated with the NEAF solar star party taking place in the courtyard, shining out of a clear blue sky with several prominences and sunspots on display to captivate viewers young and old.
Hot New Products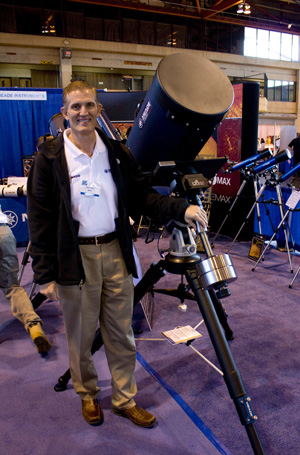 Friday night featured Sky & Telescope's reception, immediately followed by another hosted by Celestron, the world's leading manufacturer of telescopes. Celestron unveiled a slew of new products for all levels of astronomy enthusiasts. Key among the group is their new Evolution series of Schmidt-Cassegrain Go-To telescopes that will be completely controlled by a new smart phone app developed in conjunction with Southern Stars. A new 11-inch astrograph and planetary camera was also presented.
Come Saturday morning on the showroom floor, lots of new vendors joined the familiar faces to fill out the floor more than any previous year. Meade showcased their LX850 and LX600 self-guiding telescopes with Starlock technology, while Celestron showed off the afore-mentioned Evolution telescope line. TeleVue unveiled a new 3-inch Parracorr corrector for fast Newtonians for use in both visual astronomy and astrophotography.
Particularly interesting were the newcomers, including Telescopes Hercules, who manufacture large aperture Newtonian astrographs with light-weight cellular mirrors. Another newcomer, Rainbowastro featured their line of robotic German Equatorial mounts capable of high-speed satellite tracking. Vixen Optics showed off its new modular equatorial SX2 mount and Star Book One go-to controller.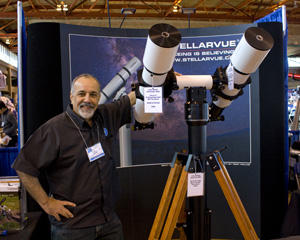 StellarVue unveiled twin 130-mm f/7 refractors to address the oil-spaced versus air-spaced objective elements debate, along with a new 60mm apochromatic telescope. Other interesting products included a 2-inch coma corrector from Explore Scientific, and a new SkySafari 4.0 from Southern Stars for Apple and Droid devices. Lunt Solar Systems had a new 50-mm pressure-tuned hydrogen-alpha solar scope, and its sister company Lunt Engineering presented a new series of ED-Apo refractors. New clip-on red LEDs came out from Vernonscope, as well as lots of big custom Dobsonians from Teeter's Telescopes.
Look for our in-depth coverage of hot new products in the August issue of Sky & Telescope. If you can't wait that long, Dennis di Cicco will be unveiling several new product videos within a few weeks - check our Product Videos page for updates!
Meeting Our Readers
"My favorite part was getting to meet and speak with some of our subscribers," says illustration director Gregg Dinderman. "It was great to see them come to the show to get first-hand experience with so many fabulous (and beautiful) telescopes — seeing something online or in a magazine really doesn't come close to feeling the real telescope or mount in your own hands."
"It's always so wonderful to talk to the readers we work for as real people who are right there," says senior editor Alan MacRobert, who wore out his voice in our booth.
"Strangers kept saying how we've been a big part of their lives forever. And then I'd hand the magazine to a brand-new person and wonder if it was going to become a life-changing moment. I made a point of asking people what got them into the hobby. There were so many different stories, but being given a piece of reading matter was often it."