The MeerKAT radio telescope has produced its first light image — even at quarter-strength, it's already the best of its kind in the Southern Hemisphere.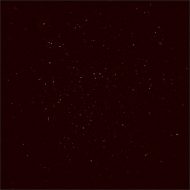 South Africa's MeerKAT radio telescope just released its first image showing more than 1,300 galaxies in the distant universe — and that's with only a quarter of its radio dishes operational. This is an almost 20-fold increase from the 70 galaxies in this field known prior to MeerKAT. The high-resolution images also reveal nearby cosmic phenomena happening just 200 million light years away, including a massive black hole that's launching jets of matter at close to the speed of light.
The telescope, a precursor to the Square Kilometer Array (SKA), is being commissioned in phases to allow verification of the system. This enables scientists to quickly fix any technical issues, as well as conduct some initial science exploration. The first 16 dishes of the telescope array make up Array Release 1 (AR1). The eventual 64 dishes are expected to be in place by late 2017.
Once complete, MeerKAT will encompass 190,000 square feet (17,651 square meters) of the region outside Carnarvon, a small town on the Northern Cape of South Africa. The area is sparsely populated, but close enough to Cape Town to minimize construction and maintenance costs.
"The launch of MeerKAT AR1 and its first results is a significant milestone for South Africa. Through MeerKAT, South Africa is playing a key role in the design and development of technology for the SKA." said Rob Adam (SKA South Africa) in a press release.
Ultimately, MeerKAT will be integrated intothe Square Kilometer Array, which when complete will be the world's largest radio telescope. The international effort will result in a telescope tens of times more sensitive and hundreds of times faster at mapping the sky than any other radio astronomy facility. Its full array of antennas will be powerful enough to detect very faint radio signals emitted by sources billions of light-years away from Earth.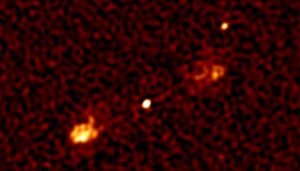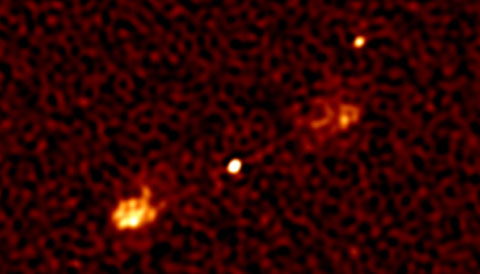 SKA will be built in two phases starting in 2018. The SKA Mid-Frequency Aperture Array will be located in South Africa and will include MeerKAT's 64 dishes, as well as another 100-plus dishes that still need to be built, all observing at frequencies from 350 MHz to 14 GHz. Australia will host SKA's Low-Frequency Aperture Array, which will consist of about 130,000 dipole antennas observing from 50 to 350 MHz.
Together, the arrays will enable astronomers to probe the radio-emitting universe in unprecedented detail. Among other things, SKA will explore the universe's first stars and galaxies, the role of cosmic magnetic fields, and possibly even life beyond Earth.
We've still got some time before SKA becomes fully operational and begins to change the face of radio astronomy, but in the meantime, MeerKAT is joining the ranks of the world's great scientific instruments.