Shoemaker-Levy 9's headline-making Jupiter impact in 1994 wasn't the only one of its kind — observations 15 years later showed such impacts might even be common.
Last week marked the 20th anniversary of the impact of Shoemaker-Levy 9 on Jupiter. The first fragment of the disrupted comet struck the giant planet on July 16, 1994, and at least 20 more fragments hit over the next 7 days, leaving a parade of dark brownish welts up to 12,000 kilometers across. The dark scars would persist for months and would provide valuable information about the chemistry of the Jovian atmosphere.
The breakup and collision of Shoemaker-Levy 9 was considered a rare event, not likely to be repeated for centuries. During the first few weeks, I made a series of detailed drawings of the dark spots. I crossed "observing an impact event" off my astronomical bucket list and figured I would never see such an event again.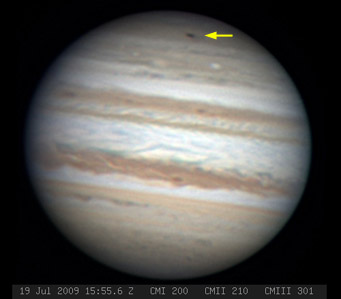 Almost exactly 15 years later, on July 19, 2009, Australian planetary imager Anthony Wesley was setting up his 14.5-inch Newtonian for a series of imaging runs of Jupiter. He soon noted a "vaguely dark spot" on Jupiter's limb, which became much more prominent as it rotated into view. He realized "it was black in all channels, meaning it was truly a black spot." Anthony sent out email notices and posted his discovery on the Association of Lunar and Planetary Observers (ALPO) Jupiter forum. Could this be another impact on Jupiter? There wasn't a long wait for an answer – the impact was confirmed on the next day by professional astronomers at the giant Keck II telescope. Wesley styles himself Bird on the internet, so the impact became known as the Bird Strike.
I remember how quickly the traffic on the ALPO forum exploded. Soon there was a call for more images – not just to document the evolution of the site, but also for those before the strike. A quick check of my image runs showed that I had imaged the area less than 8 hours before Wesley; in fact I was the last person to image it before the strike. I was disappointed to see nothing special on my images, but this negative observation was essential for pinpointing the time of the strike.
Over the next couple of months the strike region grew and elongated, taking on a chevron shape as upper-level winds slowly destroyed it. At one point, it spanned over 8,000 km (5000 miles) and could be seen easily with modest-sized telescopes.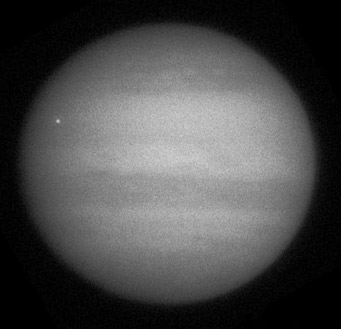 Although the "Bird Strike" wasn't a huge media event like Shoemaker-Levy 9, it was still very significant. It proved that Jupiter impacts aren't rare after all. In fact Wesley noticed a 2-second flash on Jupiter less than a year later, on June 3, 2010. The event was recorded simultaneously in the Phillipines by fellow planetary imager Christopher Go.
It also demonstrated the importance of the internet to amateur astronomers. Even in 1994, when the World Wide Web was in its infancy, it was the best place to find new pictures of the Shoemaker-Levy 9 impact. Fifteen years later it had evolved into an essential forum for posting alerts, exchanging news, and launching observing campaigns that span the entire globe.
---
Learn about the inspiring life of Leslie C. Peltier, one of the greatest comet-hunters of all time, in his autobiography Starlight Nights.