For sunwatchers who've been disappointed by this weak solar maximum, Active Region 2339 offers something to cheer about.
"Solar maximum" is supposed to be the exciting part of our star's 11-year-long activity cycle. But right now we're on the declining side of a very disappointing Solar Cycle 24, which peaked last year and will go down as the weakest showing in more than a century. In fact, as recently as April 30th, the solar disk appeared virtually blank (though a team of sunspot watchers led by Texas amateur Tom Fleming found a few tiny blips).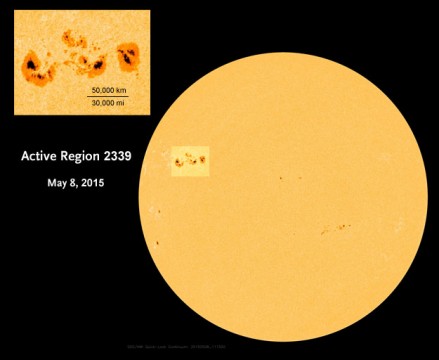 So it's a breath of fresh air, er, solar wind to see a big active region, numbered 12339, round the Sun's eastern limb and into view. This isn't the biggest sunspot group seen during this cycle — one the size of Jupiter appeared last October — but these days diehard sunwatchers will take whatever they can get.
AR 2339 (its shorthand designation) made a splashy entrance when it rotated into view on May 5th. That day, at 22:15 Universal Time, it unleashed a powerful X-class flare. Due to its location on the solar limb, most of the blast's energy was directed away from Earth. Yet it still created a pulse of X-rays strong enough to create a brief radio blackout over the Pacific Ocean and western North America. (The disruption was limited to frequencies mainly below 10 megahertz.)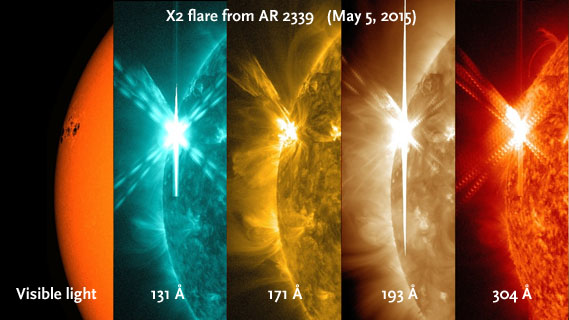 Since then AR 2339 has grown in size and now spans nearly 200,000 km. It hasn't uncorked any other sizable flares since Tuesday's, but it certainly has the potential to do so. And the closer it moves to the center of the disk, the more likely such a blast would be directed Earth's way.
In the meantime, it's a visual treat for anyone with a properly filtered telescope. (Don't have a solar filter? You can try placing binoculars on a tripod, pointing in the Sun's direction, and projecting a solar image onto a white card. But don't look through the binoculars!)