Download our monthly astronomy podcast to learn about a close pairing of Venus and Saturn before dawn, a strong meteor shower, and a parade of bright stars after sunset.
Make a New Year's resolution to do more stargazing throughout 2016. You can start by looking for the elusive planet Mercury after sunset. On January 1st, you'll find it about 10° above the southwestern horizon if you look about 30 minutes after sunset.
You can catch one of the best annual meteor showers — called the Quadrantids — when it peaks on the night of January 3–4. This shower is named for an obsolete constellation in the far-northern sky, Quadrans Muralis, located not far from the Big Dipper. The constellation is gone, but the meteors are not! With moonlight not an issue, you might see one per minute from a dark location.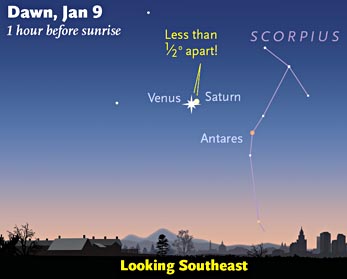 Winter's cold will be warmed by the sight of a two bright planets pairing closely before dawn on January 9th. On that morning, Venus and Saturn will be less than ½° apart.
Throughout January, you'll see bright stars parading across the sky after sunset. Orion, Taurus, and Gemini dominate the east, while Cassiopeia, Perseus, and Andromeda are nearly overhead.
To get a personally guided tour of the night-sky sights overhead during January, download our 7½-minute-long astronomy podcast below.
Podcast: Play in new window | Download
Subscribe: Apple Podcasts | Android | Email | Google Podcasts | Stitcher | Spotify | RSS | More
---
There's no better guide to what's going on in nighttime sky than SkyWatch 2016, a yearlong guide prepared by the editors of Sky & Telescope magazine.